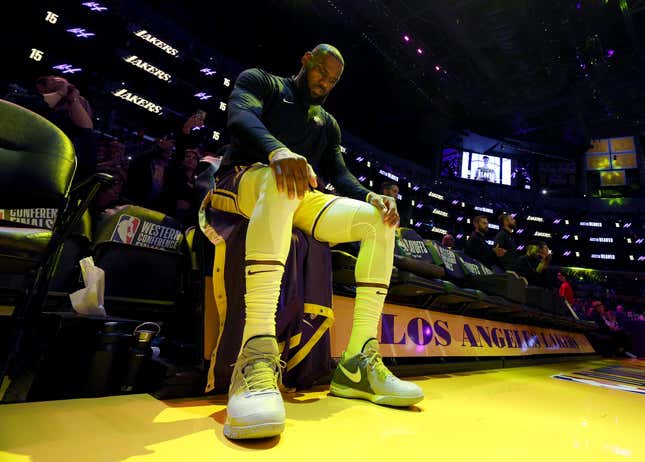 Apparently, this LeBron James "retirement" saga is going to drag out through at least part of the summer. King James is back posting "cryptic" messages on social media. It feels like more of the Hollywood drama we've come to expect from James, but if you want to call it "cryptic," go ahead and knock yourself out. No matter what he may want us to believe, it's highly unlikely that he walks away from the NBA right now.

Stranger Things than being LeBron James | Caleb McLaughlin's Ultimate Sports Fantasy
"I'm supposed to be #1 on everybody's list. We'll see what happens when I no longer exist."
Honestly, what the hell is this? He's supposed to be No. 1 on "everybody's list." Not if he's talking about the all-time G.O.A.T. list. He's not at the top of that list for the majority. If Mr. James is referring to the top spot of active players, that's no longer a given. Over the past couple of years, that argument has been focused on Giannis Antetokounmpo and Nikola Jokić.
It's no longer a given that LeBron James is the best in the NBA
It isn't clear-cut anymore that James is the best player in the world. It hasn't been for some time. James is still a great player but not necessarily the greatest, and that's okay. Contrary to popular belief, No. 1 means just that. All this talk we hear tossed around about "goats" is nonsense. Thirty-seven people can't be the goat of anything. It just doesn't work like that.
It's obvious what's happening here. James is keeping the spotlight on himself as the season winds down, and we head into the offseason. Or this whole "retirement" angle could be his way of applying pressure to the Lakers, so they bring in more help. He's the GOAT and constantly begging for more help. The team fulfills his request, yet they still can't finish the job, and now he needs even more support. It's interesting because it's been this same formula since his second stint in Cleveland. But James is still supposed to be "#1" on everyone's list. Well, according to him, anyway. Honestly, all these antics have become comical. You're better than this, Mr. GOAT.