Hey, so, we feel your pain about being stuck at work while there's playoff games going on, so, like we have all week, we're are mere vessels to maximize your enjoyment. We'll be live-blogging Game 2 of the Cardinals-Padres series right here, down to the last pitch, as the Padres try to make this a series.
As you've surely noticed, we're pretty bad at hiding our passion for hardcore Cardinals action, so keep that in mind. But we'll be here all day, so enjoy.
Live Blog: Cardinals vs. Padres, Game 1 [Deadspin]
Playoff Pants Party: Cardinals vs. Padres [Deadspin]
Bookmark this page and reload throughout.
G/O Media may get a commission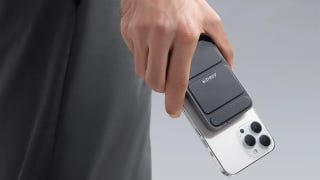 15% off
15% off Anker Top Ten Products
Take charge
Treat yourself to a portable power bank, a magnetic wireless battery for iPhones, or even a solar generator. There is a reason these are in the top ten. For instance, the Anker 747 Power Bank is a 4-in-1 charger utilizing USB-A and USB-C to be capable of charging up to four devices at once. Great to take with you when traveling and in need of keeping your phone, laptop, and even Nintendo Switch powered on.
(Live Blog Begins After The Jump)
TOP OF THE NINTH: It's funny, if the Cardinals do hold on here, it feels like they will have a very different 2-0 lead than the White Sox do. Wouldn't the Padres feel a little more done?
That said, we're still not crazy excited about seeing Jason Isringhausen and Dave Roberts right now, leading off the inning. Makes us nervous. Everything makes us nervous right now.
Roberts pops up. One out. Klesko strikes out. That's the yakker we like. One more, and then we get to stay up until 4 a.m. watching Saturday's game. Wee.
Pop up ends the game. Cards go to Petco with 2-0 lead. We go downstairs to take out the trash. Everyone wins!
See you tomorrow morning ... we'll be live blogging White Sox-Red Sox tomorrow afternoon ...
FINAL: Cardinals 6, Padres 2
BOTTOM OF THE EIGHTH: Most recent Gas Lamp Ball post, right after Sweeney struck out:
Gaaaaaaaaaaaahhhhhhhhhhhhhhgggggggggaaassssdfvv;aksujeascmv a/s.khg;aow9u40a9wvnc a
Sounds like our prom!
Cards go down in order, and it's the last chance for the Padres.
Cardinals 6, Padres 2
TOP OF THE EIGHTH: Who was it that said Julian Tavarez looks like a Miami Vice villian? We think it might have been Oddjack, who told us that Tavarez scared him so much during last year's playoff that he was having nightmares about him.
One-out hit for Hernandez. You know what that means ... double play time!
Or a walk to Brian Giles. We are handling this inning much better than we would have had those two runs not scored last inning. Greene lines right to Nunez for the second out, but then a single up the middle loads the bases for Xavier Nady (the name of our first fish).
Nady takes the first pitch off his hand — Plunk Nady! — and forces home a run. And just like that, the tying run is at the plate again. Randy Flores comes into pitch to Mark Sweeney. Can't everything just go smoothly?
2-1 count. This at-bat has taken two years, and one of those was directly taken off our life.
Flores strikes Sweeney out, and the Thunder Stix go wild! Why do we feel so conflicted?
Cardinals 6, Padres 2
BOTTOM OF THE SEVENTH: Edmonds leads off with a walk, and Pujols slaps a hit-and-run single into right. We were just about to mention, gently, that Pujols still seems a little gimpy and isn't hitting the ball very hard. And then he goes all Eckstein on us. Gotta love that. Could break this very open right now and make everyone much more relaxed.
From Gas Lamp Ball's open comment thread, about the double play last inning: "Of course he GIDPs. He just came off the bench. The coaches have been explaining how to do it all game."
Walker has a very iffy call on a check swing — though, honestly, we really kind of think it's impossible to tell from any angle on a check swing; it always seems like guessing — and is called out on his way to first. Fortunately, Reggie Sanders smashes a shot down the line to score Edmonds and Pujols, and the Thunder Stix inflate themselves a little bit.
Gruzielanek strikes out, Nunez flies out and normalcy is restored.
Cardinals 6, Padres 1

TOP OF THE SEVENTH: Greene again. Leadoff double. You know, this game is a lot closer than it seems.
Whitey Eckstein being interviewed for the first time this playoffs. He's gonna be on screen more than Oprah, we're telling you. And, in case you didn't notice while hearing Eckstein's dad tell his story for the millionth time — to his credit, he is more concerned with the Cardinals than recounting the whole thing again — a single makes it first and third with nobody out. Tying run on deck. Are we the only one who has noticed this?
Another hit, scoring a run. And then, wouldn't you know it ... another double play. Padres fans have to be pulling out their arm hairs. Mulder hits the next batter, and LaRussa pulls him, to a chorus of Thunder Sticking.
Crazy Man Julian Tavarez gets Ryan Klesko to pop out to shallow left, and the Cardinals escape. There isn't much urgency in this game, we're noticing.
Cardinals 4, Padres 1
BOTTOM OF THE SIXTH: First two Cards go down quickly, and we recieve an email about something we'd been thinking only seconds before.
"WTF?!
why are there thunder stix at Busch Stadium?! I went to the
Angels-Yankees game last night (first time at the big A, yankees fan)
and it was hands down the worst baseball going experience of my life
(and I've seen Al Leiter pitch at Shea). Why? Because of Thunder
Stix and the grown idiots banging them together and waving stuffed
monkeys around.
Last night I was talking about how St. Louis fans are regarded as the
smartest and most-baseball savy fans around, and now I see this. This
is not a turn-forward-the-clock night, this is the fucking playoffs:
You and your people have a lot of explaining to do."
Sadly, we couldn't agree more. But don't blame the fans; almost certainly, the Cardinals planning people put them under every seat, trying to create that artificial excitement. If you have two inflatable rods in your chair, there's really not much more you can do with them but slap them together. But yeah. Not a proud Busch Stadium moment.
Mulder walks, and Eckstein somehow resists the temptation to bunt. (Another shot of his dad, by the way. We repeat: Great story that you're going to hear so much over the next week that you're going to hate yourself.) He lines to short to end the inning.
Cardinals 4, Padres 0

TOP OF THE SIXTH: After a groundout, the eponymous Hernandez knocks a hit into left. And then, just like that, another double play.
Giles' helmet comes off, and we swear to God, he has the worst case of helmet hair we have ever seen. Why can't the cable go out now?
Cardinals 4, Padres 0
BOTTOM OF THE FIFTH: Pujols gets an infield single on a great play by Greene. Walker grounds into a fielders choice. Duke Castiglione lets us know that Reggie Sanders is growing a beard for the playoffs and that his wife doesn't like it. Sanders' wife, not Castiglione's.
Sanders flies out, and they start showing Larry Walker highlights of the Cardinals in Game One of the World Series last year. We watched every second of that series and were surprised there were, in fact, highlights that didn't make us want to kill everyone in the room. Gruzielanek swings at a pitch over his head to end the inning.
Cardinals 4, Padres 0
TOP OF THE FIFTH: Just got the news alert that there was a threat against the New York City subway system. Typical of our friends, we received this IM:
Friend: Stern fan just got through on Fox news
Deadspin: What happened?
Friend: Said that when officers looked into a called in bomb threat, they went to the scene and found Howard Stern's ball sack.
Friend: Roseanne went, WHAT???
Friend: And he said, They found Howard Stern's ball sack.
Friend: She was pissed.
Another double play for the Cards. We're gonna stay in our apartment, like we pretty much always do.
Cardinals 4, Padres 0
BOTTOM OF THE FOURTH: We're gonna use our favorite baseball verb again: Gruzielanek "fists" a single into right field. We're telling you, being an athlete is very tough on your body.
Nothing fisting about that double over the head of Canadian sprinter Ben Johnson by Nunez, and here comes another Cardinals rally. They could really bust this open now; second and third, no out. Father Yadier up.
Grounder to first, and for the second time today, a throw home is too late, and Grudzielanek scores. And now the Padres are in real trouble. We're curious why Mulder is showing bunt here; ah, that's better, he takes two easy strikes right down the middle, forgetting he has a bat at all. One out.
Ha. David Eckstein squeezes home Nunez. We love the squeeze bunt, we really do (we grew up loving Whitey Herzog and all), but we don't quite understand it here. This is the time to break a game open, not sneak one run at a time. The run is nice, but just about everything Eckstein could have done other than a double play would have gotten that run home. Dunno. We're no genius, we guess.
Edmonds hits a hard ground ball to second, and that's the end of the inning. Still feel like there could have been more there.
Cardinals 4, Padres 0
TOP OF THE FOURTH: Greene, who's a pretty active part of this recap so far, leads off with a single to left. Next pitch to Joe Randa is hit right at David Eckstein, who pulls a very easy double play. Hey, look, other people with feed problems!
"I'm losing feed too! time warner just cut out for nearly 5 minutes!!! i am a missourian, and would like to point out that these feed cuts are NOT because we rednecks don't have fancy city equipment. my missouri/iowa/illinois pals do not have any problems with their games on tv ;)"
Easy ground ball to Grudzielanek and that inning was over very fast. Cardinals need to break this open. We need to break open this boil.
Cardinals 2, Padres 0
BOTTOM OF THE THIRD: Nunez leads off the inning with a walk. Genius Tony LaRussa waits just two pitches to try a hit and run with Yadier Molina, who fouls the pitch off. Yadier is our favorite Molina, and actually, our favorite Boone.
He grounds an easy double play ball to Greene ... who boots it! The rally be beginning. If Mulder somehow gets hit in the arm here, we're gonna be really pissed.
Mulder made two pathetic attempts to bunt, so bad that we actually were hoping he'd just strike out so as not to hurt our eyes. And then, lo and behold, he puts down a perfect one. The Cardinals fans give him a huge ovation. God, we love Cardinals fans.
And for the third time in as many days, ESPN has lost its feed in the New York City area. Is this happening to anyone else? We mean, for fuck's sake now.
It has now been down for five minutes. Uh ... MLB.com tells us that Eckstein hit into a fielders choice to score a run, and Edmonds walked. Pujols is up with the bases loaded. Totally not something people would want to watch.
The feed comes back just in time to watch Pujols takes ball four. Now it's Larry Walker with the bases loaded. This could be bad fast. Full count to him. This would be classified as a "big pitch." And he strikes out swinging at ball four. Reggie Sanders comes in, and if he hits a grand slam here, well, that would be wild.
Sanders strikes out, though, so the Cardinals get two runs off three walks, an error and no hits. That was one of the lamest rallies we've ever seen.
Cardinals 2, Padres 0
TOP OF THE THIRD: Mulder is back out there and, just to taunt him, the first ball is hit back to him. He throws out Eric Young without snapping anything, so that's good.
Honestly, Mulder is throwing eephuses up there. A line single to left by Loretta, but he somehow sneaks out of it by getting Ramon Hernandez — whom we're confusing with about six different players right now, all with different names — to fly to center and Brian Giles to ground to third, a weird play that Abraham Nunez almost screwed up. So still nothing here.
Something about that commercial with the huge walnut makes us giggle.
Cardinals 0, Padres 0
BOTTOM OF THE SECOND: Larry Walker strikes out looking, and Reggie Sanders drills a line drive that the flamboyantly maned Greene swipes. Everything we ever hear about Greene is that he's this mild-mannered, respectful, quiet guy. Which makes us understand the hair even less.
Mark Grudzielanek appears to have grown a playoff beard. He grounds out, and the announcers seem to think Mulder will be back. We'll see if that's a good thing.
Cardinals 0, Padres 0
TOP OF THE SECOND: Nice biographical note: Mark Mulder has been known to water ski. Sure the Cardinals love that. He also finally got rid of that goddamn soul patch. Still has streaks in his hair, though. Brian Giles grounds back to him. The ball, that is.
Khalil Greene walks. There goes the perfect game! Joe Randa rips a line drive right off Mulder's left arm — which is kind of important for his profession — and rolls away for a single. Mulder looks hurt. Christ. There goes the no-hitter.
And then he hits Xavier Nady, which is, strangely, the exact same name of our fish when we were a kid. Bases are loaded, one out. Mulder looks terrified. So do we.
Fortunately, world-class sprinter and steroid cheat Ben Johnson looks awful swinging and missing at three off-speed pitches. Astacio looks somewhat better knicking a ball off the plate that Mulder grabs and, in his hardest throw since he was hit with the line drive, throws him out, barely. We will be very surprised if Mulder comes out for the third, though; that's a bad place to get hit with a line drive.
Cardinals 0, Padres 0
BOTTOM OF THE FIRST: David Eckstein smacks one right up the middle, and here we go. We know Pedro Astacio has pitched well the second half of this year, but we still can't quite believe he's starting Game 2 of a playoff series.
Jim Edmonds pops out. We really think Albert Pujols should wear that mask all the time when he bats. He probably should have been; he pokes a dopey ground ball that's an easy double play.
Cardinals 0, Padres 0
TOP OF THE FIRST: Eric Karros and Steve "Not The Nude Sunbather, Sorry" made it back from yesterday's game in Atlanta to do this one. Still think Karros looks like Mickey Rourke in Sin City from the side. We used that joke yesterday, but we don't care. We still like it.
We think we just heard dugout reporter Duke Castiglione — whom we know well out here in New York — say that the Padres' doctor's name was "Mr. Hankey." We heard that wrong, right? Eric Young grounds out, as does Mark Loretta, not to be confused with "Baretta." (Another pop culture reference! Somebody stop us!)
Carlos Hernandez, who runs like he's trying to keep his pants up, grounds out as well, and we're off and running.
Cardinals 0, Padres 0