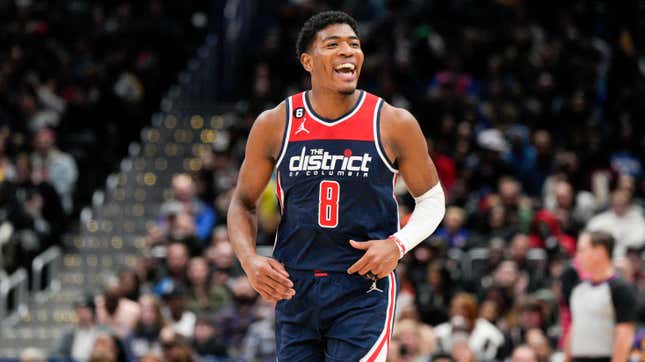 After a pair of scintillating comeback victories over the Portland Trail Blazers and Memphis Grizzlies jolted the Los Angeles Lakers back to life, their embattled General Manager Rob Pelinka decided to clock in for the first time this season by finalizing a deal that would acquire Rui Hachimura from the Washington Wizards.
The Miami Heat are one of the great underdog stories in NBA history | Keep it a Buck(et)
The Lakers have been teetering on life support throughout the first half of the NBA gauntlet. Anthony Davis has been on the shelf so long he's beginning to mold; LeBron James is overworking like James Evans in "Good Times" to put food on the table offensively; and Russell Westbrook is misfiring at will off the bench. However, the Lakers are three games under .500 nearly 50 games into their season.

Meanwhile, Pelinka has been on his "Weekend at Bernie's" steez at work all season. You'd be hard-pressed to think of the last significant move he authored. In truth, the last rotation player Pelinka pulled the trigger on was plucking Patrick Beverley from Utah for Stanley Johnson and Talen Horton-Tucker. The simmering rumors of a Buddy Hield, Myles Turner swap involving Westbrook's $47 million deal never materialized. Instead, the Lakers tinkered around the perforated edges by sending Kendrick Nunn and three second-round picks for a Washington wing who'll be a restricted free agent this summer.

Wizards are in the Brick 4 Vic lottery
Washington trading Hachimura trade is less them waving the white flag in exchange for tickets to the Brick 4 Vic lottery and more of an acknowledgment of Hachimura's disgruntlement. Hachimura's $18.8 million cap hold presents its own complications for the Lakers until the upcoming restricted free agent agrees to a new multi-year contract after the season or opts for the qualifying offer, then waits until 2024 to become an unrestricted free agent. Either way, the Lakers could have Hachimura under team control for another season after this one if they choose to retain him.
What Hachimura brings to the table
Since being drafted ninth overall in the 2019 draft, Hachimura has since been relegated to a bench role in Washington, but is still a worthy scoring threat from the perimeter. In Los Angeles, he'll assume similar duties. The 6-foot-8 wing has a 1-to-1 assist-turnover ratio, but his spot-up touch from beyond the arc will be put to good use on a Lakers squad that ranks last in makes from distance and 25th in efficiency behind the arc. Hachimura's 33 percent shooting off the catch from distance is ugly, but the Warriors are relying on him returning to his 2022 form when he drained catch-and-shoot triples at a 47 percent clip.

The peripheral benefit for Hachimura, besides potentially opening up the floor for LeBron James, is the reunion with former Wizard teammates Russell Westbrook and Thomas Bryant. This time, they'll be coming off the bench to supplement Davis and James. By riding the pine for the opening minutes instead, Hachimura will square off without superior starters for 30 to 35 minutes a night. Most importantly, Hachimura is still only 24 and has more upside to bump his head against.

Ultimately, the Hachimura move should be just the start for a Lakers squad that's been poorly constructed around James and Davis. Pelinka, who's been sleeping on the job since the Lakers' 2020 bubble title has never appeared to have a theme in mind for the team he's sculpted out of dung.

If Pelinka is serious about rebooting the Lakers on the fly, Westbrook is still the most likely candidate to head for the exits. The Lakers have spent the offseason rehabilitating his stock, but he is what he is at this point. He's a name-brand point guard with knockoff productivity. Westbrook's intensity and relentless nature would be better served as an example on a young team. During games, often veers around the court blowing exhaust fumes and exhibiting diminished horsepower.

Hachimura won't be enough to satisfy Shannon Sharpe and the legion of championship-or-bust Lakers fans. A veteran microwave scorer like Eric Gordon, who's discontent on a flailing Rockets team, may be available, but Pelinka reeling in a more prominent name is the bare minimum that can significantly alter the Lakers' current lottery trajectory. L.A.'s front office is beginning to show the same fight as their outmatched roster.