It's tough to make sense of the freighter plane full of cash Manchester United dispatched to Monaco on deadline day, seemingly out of the blue (but not spurred by panic! they are certainly not panicking!), in exchange for relatively little-known French forward prospect Anthony Martial. It would be easy to explain if United were a super-rich club looking to bring in an exceptionally promising player to slowly integrate into an already stacked side, or if they were a rising club that couldn't attract superstars and instead sought to buy and develop high-upside players for a run at the top of the table a couple years down the line. The confusion stems from the fact that United doesn't seem to see itself as the former or the latter.
The Martial purchase has to be understood alongside United's shifting place in the sport. The Red Devils' current situation has its origins in the end of Alex Ferguson's tenure as manager. Late-era Ferguson teams were packed with older, Premier League-experienced workhorses, headlined by one or two (generally older) stars, with a few young developmental players sprinkled in for depth. They were optimal, if short-term focused, squads for Fergie's specific philosophy.
Like many short-term plans, nobody knew when the jig was up until the music abruptly stopped—except maybe Ferguson himself, who rode off into the sunset as EPL champion just months before everything went to hell under David Moyes's leadership. Moyes bragged about the enormous treasure chest open to him for investment during his first transfer window in Manchester, but foreshadowing their problems of late, the club struck out on the real gamechangers. That window, the club missed out on the likes of Cesc Fàbregas, Thiago Alcântara, Juan Mata, and Ander Herrera, while settling for Marouane Fellaini.

Once the games started it was evident that whatever dark ritual Sir Alex performed at the center circle of Old Trafford the year before had worn off. What remained were hollow husks missing that animating energy that kept everyone uninjured and unbeatable. The addition of an ill-fitting Mata in January wasn't enough, and United ended the season in 7th place. The squad needed a total overhaul and the club decided Moyes was not the man to oversee it.
The following season, United vowed to regain their spot atop world soccer's hierarchy immediately. They hired big club maven Louis Van Gaal to lead the way, and this time actually made good on opening the vault to spend their way into contention. United bought big on young-to-prime-age players like Luke Shaw, Daley Blind, Marcos Rojo, the previously-pursued Herrera, and most impressively, Ángel Di María, whom they dropped about £60 million on.
G/O Media may get a commission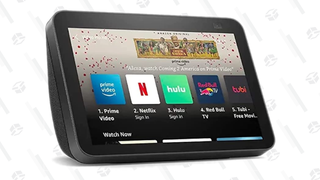 Di María was the most important of those purchases, for a couple reasons. First, of course, was his inarguable class. He had just come off another typically sensational season for Real Madrid, this time in a tweaked midfield role that made him an even more important part of the team than before. In his first couple games in England, he looked like the best midfielder in the league.
Then there were the optics of the move. By stealing away a critical component of Real Madrid's long-awaited 10th Champions League-winning season and convincing a player of that calibre to join a team that wouldn't be competing in Europe at all, United could hold the Di María transfer up as evidence that they remained an elite destination for elite players.
Thing is, that wasn't exactly true. Di María's move to Manchester was facilitated more by circumstance than the club's stature in the game. Real's impetuous president Florentino Pérez decided he had to have James Rodríguez following the Colombian's 2014 World Cup exploits, and that, coupled with the Toni Kroos signing, meant Di María's starting spot had been unexpectedly snatched from him in a matter of weeks. Feeling betrayed after everything he'd given to the club, the Argentine midfielder wanted out as soon as possible.
His options were limited. There are only a handful of clubs around the world that could've afforded what he'd cost in transfer and contract terms, which was further whittled down by each club's individual need (or lack thereof) for a player like him. The only realistic suitors on such short notice were PSG, the team he really wanted to go to, and United. PSG's transfer budget was constrained, however, due to their running afoul of UEFA's Financial Fair Play rules, which took them out of the running. United were the only place for him to turn. It was no surprise when he left United for PSG at the end of his disappointing first year.
After an up-and-down though ultimately successful season last year, the Red Devils found themselves in a similar position this transfer window. Back in the Champions League after a year away, though still not real threats to win anything, United wanted to make that next jump to true title contention. The window started brightly. Continuing their tradition of signing talented young and/or overlooked guys whom the club would nurture on their path to superstardom, they managed to bring in Matteo Darmian, Morgan Schneiderlin, and the crown jewel, Memphis Depay. For name recognition, Bastian Schweinsteiger came onboard from his boyhood club Bayern Munich. United had their young talent in place, and all that was missing was a big star or two, the kind of players that used to pace those Fergie teams. With promises of signing at least two such players—a central defender and an attacker—it appeared United really were about to go from laughingstock to potential EPL champion in just two years.
Those last two pieces proved incredibly difficult to get. For most of the summer, United were linked with world-class players to fill their defensive and attacking gaps. They pursued Valencia's Nicolás Otamendi for a while, before moving on. (Otamendi eventually went to Manchester City.) They flirted with Real Madrid's Sergio Ramos, before striking out there as well. (Ramos ultimately extended his contract with Madrid.) Even more ambitiously/delusionally, they placed feelers out on Real's Gareth Bale, Bayern's Thomas Müller, and Barcelona's Neymar, to predictable results (all three stayed with their clubs, with Bale's agent going as far as basically responding to United's interest with an "lol, nah"). The closest they came to signing a highly-decorated stud was Barça's Pedro, who eventually chose Chelsea instead. United demonstrated a consistent desire to sign a great player, and were consistently rebuffed, proving their standing in the game was not what it once was, even if their bank account said differently.

All of which makes the Martial signing so perplexing. Specifically targeting a player like Martial is one thing. Spending so much time hunting a world-class forward, then scrambling for a good-but-not-great alternative like Sadio Mané, then paying gobs of money for a young player like Martial speaks to a team without a clear idea about what it needs and what it can get.
Martial's addition to the team on it's own isn't the problem. He is rightfully regarded as the next big thing in France, can fill both their central and wide forward holes, and brings United the kind of speed and ability to stretch defenses with runs in behind that their slow attack has been missing. Even the price itself makes some sense: a player's current ability is but one factor determining how big a fee a he should fetch, among other considerations like age, potential, current contract length, etc. The reported £36 million initial fee is obviously steep, and the £20+ million in add-ons would make it truly outrageous, but money really is of almost no object to United. If they got the player they wanted, it shouldn't matter what the price was. (However, this logic applies just as much to their failed Pedro and Otamendi bids; if they hadn't been caught up haggling over a few million pounds in each of those cases, their squad would be inarguably deeper than it currently is.)
The hitch in the signing is the the lack of planning it evinces. Martial could very well end up being United's starting right winger for much of the season. That kind of experience would do a world of good for his development, getting him closer to the immense potential they project for him. And yet, it's hard to imagine a team with so much invested in a young, still-developing player seriously contending for the Premier League and European titles. And isn't that what they were shooting for, as evidenced by the other players they tried and failed to sign?
Betting on youth in the present to bring glory in the future is a perfectly respectable path. But if that was United's thinking, why did they opt to loan out Adnan Januzaj to Borussia Dortmund (a team he doesn't look to give him any more minutes than he would have gotten in Manchester, where he'd been a starter the last few games) instead of giving him the playing time he needs to grow?
At nearly every turn, the club seems torn between visions of themselves: are they rivals with Bayern Munich and Real Madrid, amassing an army of the world's best to conquer the sport? Or are they three or four years away from that, building something that in the nearish future will challenge for trophies?
Nothing better exemplified this split self-conception than United's handling of the David De Gea situation. It was obvious from the very beginning that holding onto their keeper was more a matter of principle than anything else, as De Gea was one of the club's great success stories. The Spaniard was a young, barely proven talent the club spotted and signed for what was then an EPL-record fee for a goalkeeper, was incorporated into a title-ready team, and developed into one of the world's best at his position in a winning atmosphere.

But as they slipped from their perch atop the sport post-Ferguson, their star keeper's head was turned. Here came some allegedly bigger club, trying to flex its muscles over The Great And Powerful Manchester United by taking from them a player they had no desire to part with. Instead of understanding why De Gea would want to leave and attacking the coming problem head on, they fought to retain him.

Until they gave in. United ultimately did begrudgingly accept Real's bid, offering up their prized possession to their perceived betters. Only a farce of clerical errors kept De Gea in Manchester—unless you believe the conspiracy theories that United rigged the deal on purpose.
Now the club is trying not only to mend fences with De Gea for this season—the player who wanted to move on and move up—they want to renew his contract. They'll try to convince him that all his ambitions can be met in Manchester, and that the most decorated club in England can and will soar over the sport as it once did. De Gea might say yes to a new deal and the enormous salary that will inevitably come with it, but judging by the responses of some of his world-class peers this transfer window, United's pitch about impending trophies and glory will be a tough sell.
Photo via Getty