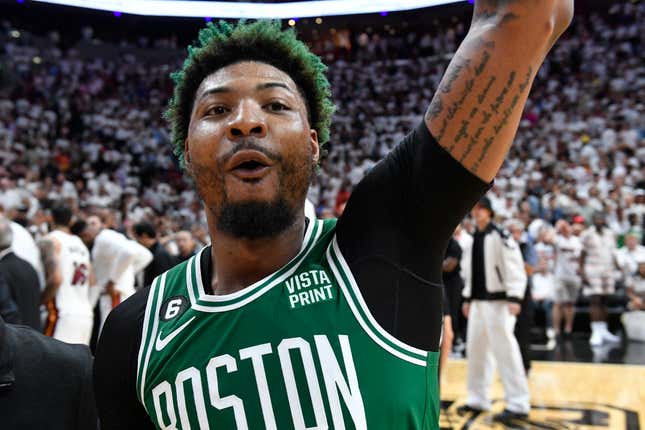 After nine years in Boston, Marcus Smart was sent packing to Memphis. On the surface, it might sound like a raw deal for Smart, but his arrival in Tennessee could be the best thing to happen to the Memphis Grizzlies since Ja Morant fell in their laps four years ago. Smart isn't a superstar, but much of what he brings from Boston is what Memphis has lacked. Leadership, accountability, and tenacity. With everything that's gone on surrounding the Grizzlies on and off the court, Smart should be a breath of fresh air on this young team.
Jordan Poole ruins Golden State Warriors comeback and… we're being too hard on him | Keep it a Buck(et)
Obviously, this came out of nowhere, as many trades do, and Smart was caught by surprise hearing he wasn't going to suit up for the Celtics in his 10th NBA season. While it's all still sinking in for the former Defensive Player of the Year, the trade shouldn't be considered bad for Smart.
Smart could wind up being the best thing for those young guys in Memphis. On top of that, he can slide right in and take Dillon Brooks' spot, adding an even more fierce defensive component to this Grizzlies roster. Plus, Smart shouldn't have to worry too much about PG duties, playing next to Ja Morant. Well, once he's served his 25-game suspension.
Another aspect of this trade is aligning Smart next to Morant. A vocal veteran leader who can show players like Morant, Jaren Jackson Jr., and Desmond Bane the right way. Over the past year, Memphis has gone overboard with all the talking. Trash talk is fine, but at a certain point, you've got to realize that you haven't won anything, and nobody cares. There's a fine line between smack talker and loudmouth. For many, the Grizzlies have become the latter.
Although Smart wanted to play his entire career in Boston, it certainly could be worse. The Grizzlies aren't some cellar-dwelling team with no shot of winning. They've been the No. 2 seed in the west two years running. They fell back a bit this postseason, being eliminated in the first round by the Los Angeles Lakers, but their window hasn't completely shut. Memphis will need to figure out how they want to divvy up the money here soon with some of these young guys, but they should still be one of the top teams out west during the 2023-23 campaign. So, Smart should consider himself lucky. After all, he could've gone down the road to the nation's capital.