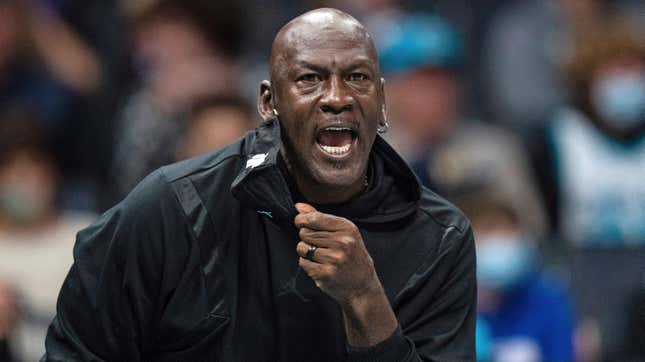 Michael Jordan's sale of his majority stake in the Charlotte Hornets to Melvin Capital founder Gabe Plotkin prompted a new strain of conspiracy theories pertaining to the relationship between MJ's purported half-billion dollars in stock losses due to the GameStop meme-stock short squeeze in January 2021.
Should the NFL relax its gambling policy? | Agree to Disagree
Jordan's gambling conspiracy theories are as American as the grassy knoll theory around JFK's assassination. Some of them can get pretty dark and veer into unsettling topics that mostly pertain to his nearly two-year NBA retirement. Most of it is B.S. related to the devaluation of the Hornets as a result of the NBA's financial losses because of the COVID crisis. However, the aforementioned Gamestock saga is instructive in regards to the high finance protectionism of billionaires versus the freewheeling sports gambling market that allowed gamblers to get led astray during the NBA Draft.
Two years ago, Reddit's WallStreetBets forum rallied retail traders to drive up shares of GameStop via the Robinhood brokerage app. The rally began months earlier when Keith Gill, known for his Reddit alias u/DeepFuckingValue, began posting regularly about stocks he held in GameStop. One of the deep-pocket figures taking positions against Melvin Capital's short selling was former Golden State Warriors minority owner Chamath Palihapitiya, who was outspoken in his intent to crush the billion-dollar hedge fund.
Hedge fund Goliath Melvin Capital shorted GameStop's stock on the belief that the price of the stock would diminish, at which point they could buy low and eventually turn a profit. In the span of a few days, GameStop's stock price surged from approximately $10 per share to $500 per share at its peak. Capital's $6.8 billion in losses was one of the most dramatic financial losses since the market crash of 2008 and soon after the hedge fund shuttered its doors. Plotkin, Charlotte's new co-owner, oversaw Melvin Capital's historical 53 percent decline of its $12 billion in assets. Ironically, days after Plotkin's sale was finalized last week, the Hornets found themselves at the mouth of a twin controversy.

Shams Charania and the No. 2 NBA draft pick odds
GameStop's manufactured surge was similar to Shams Charania juicing the betting markets on Draft Day last week by reporting that the Hornets were leaning closer to drafting Scoot Henderson with their second overall pick over Brandon Miller. As one of the most influential scoop artists covering the NBA, Charania's words are taken as gospel. The problem is that Charania is simultaneously a mouthpiece for FanDuel, regularly appearing on the online sportsbook's channel. FanDuel allowed bets on which player the Hornets would take second overall. By doing so, Charania inadvertently turned the tables on average bettors by reporting news that prompted bettors to flip and odds to shift.
Through Charania's reporting, FanDuel made off like bandits with their bettors' money courtesy of bettors following Charania's official report. He didn't cite his report as advice.

FanDuel claims it has never been privy to the news Charania breaks, and there's no evidence to imply that they're lying in this instance. A year ago, Adrian Wojnarowski assured fans that the Magic would draft Jabari Smith first overall. The difference is that Charania's conflict of interest due to his contractual business relationship with a sportsbook opens up too many avenues for unscrupulous actors. Charania and his ilk can't be held to the same standards as u/SaleAgreeable2834 tilting the odds dramatically after posting on r/sportsbook that Kentucky quarterback Will Levis was informing family and friends that Carolina would be announcing him as their No. 1 overall pick. Those bettors lost by following a poorly sourced nobody, but the entire journalism industry was sullied by the implications that serious journalists can be in cahoots with gambling companies.

Wall Street vs. sportsbooks
On Wall Street, individual investors are often derided as "dumb money," destined to lose against the more powerful market forces. Conversely, sportsbooks have turned billions of dollars in profit by relying on the same algorithms and changing lines as new information arrives, banning successful bettors and targeting bad customers. The conflict of interest between information brokers and gambling companies needs to be ratified into law as soon as possible. As sports gambling becomes legal across the country, the ramifications of its administration become even more glaring.

Betting on drafts is illegal in New York, Connecticut, Pennsylvania, Virginia, and Washington, D.C. However, there's no national law against it. That should have been put into motion as soon as possible, but the swift call for regulation that sprang into action after Melvin Capital was immolated has yet to materialize.

Drafts are murky territory. For months speculation will fester before an actual pick is made, but at the top of the draft, picks can be settled days or weeks prior, which could allow for a plethora of instances like the stir involving Charania and the Hornets' pick. After Melvin Capital's losses, socially engineered artificial increases were essentially wiped out by Robinhood's ensuing restrictions. Whether it's the stock market or the stock exchange, big money always wins. Betting on drafts is an open gash and the loophole has to be closed.

---
Follow DJ Dunson on Twitter: @cerebralsportex