Mike Francesa has just 13 more shows to go, but he—and we—received an unexpected gift in the form of Eli Manning's benching. 

The best sports movies according to Toheeb Jimoh
It was an inexplicable move. Not the benching—I'm a Giants fan and I agree it's about time, if you can set aside sentimentality—but the part where they're replacing him with Geno Smith? What the hell is the point of that? And why is Ben McAdoo, who owners have basically confirmed they'll be firing as soon as the season ends, being allowed to make this decision? (And it was his decision.)
The Sports Pope had himself an afternoon:
G/O Media may get a commission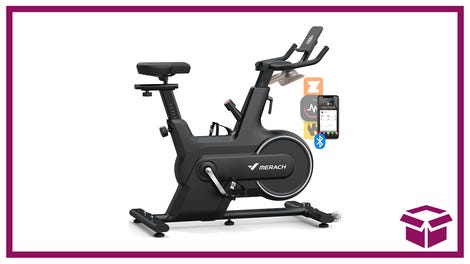 14% off + Coupon
Merach Indoor Cycling Bike
Mike really gets going around the 1:50 mark. Some highlights:
"You're gonna stand up in this town—WHERE WE'VE SEEN GENO SMITH PLAY!—and you're gonna tell us you have a better chance to win with him than with Eli Manning?"
"He's got a game plan? We haven't seen a game plan from this guy all year. Since he's been the head coach, the Giants haven't scored 30 points EVER."
"You can't run this clown out of town fast enough! The worst thing that ever happened was Eli Manning had to be associated with you as head coach."
"Maybe on the way out you can take a look at Eli's rings, that's the closest you're ever gonna get to one."
"You're gonna try to tell us that [whacking desk] GENO SMITH IS THE ANSWER?! That's the problem with this team now is the quarterback [loses voice] AFTER WHAT WE'VE WATCHED THIS YEAR? You're playing guys who drop every ball in sight. You haven't disciplined a damn player all year. And you're gonna blame this now on your quarterback? At 2-9? What a gutless move."
"That's not gonna stand in this town because these guys have watched Eli Manning, they've watched him long before they ever heard your name. And they'll remember his long after they've FORGOTTEN YOURS."
Because asking you to listen to an eight-minute clip of an angry man from Long Island is probably asking too much, here's a really useful two-minute compilation of much of the best stuff.
Dom called it when he said the Giants have become the Jets. And we're really going to miss you, Mike. Thanks for all the content.