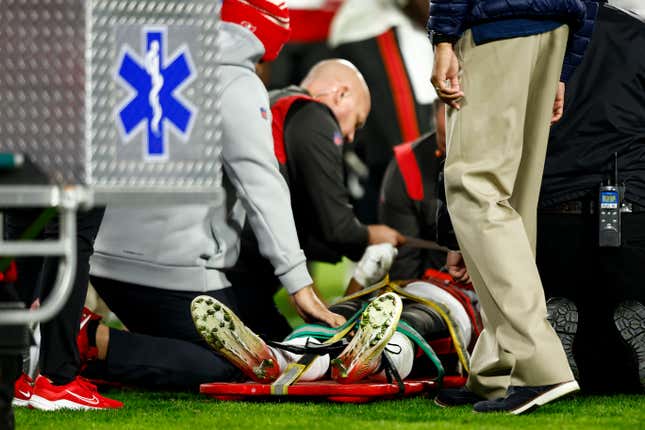 When Tampa Bay wide receiver Russell Gage went down late in the fourth quarter of the Buccaneers' Wild Card matchup with the Dallas Cowboys, everybody in the stadium and everyone watching on television held their breaths — again. For the second consecutive broadcast, Joe Buck and Troy Aikman were calling a Monday Night Football game in which a player had to be taken off the field — reminding us, once again, just how dangerous football has always been, and will always be.

Fourteen days after millions watched Damar Hamlin leave the turf at Paycor Stadium, they came back to the same broadcast to watch Gage be strapped on a stretcher. This is exclusively an American tale.
Instead, people are talking about Tom Brady and Brett Maher
Tuesday morning and afternoon sports shows, online sports publications, and newspapers across the country will be filled with stories about Brett Maher making history after missing four PATs, how terrible the Bucs' defense played, how impressive Dak Prescott looked, and whether or not we just saw Tom Brady play his last game for Tampa — or in his career. But for the people who aren't obsessed with fantasy football or what the over/under was on the final score, the story of the night was Gage's injury.
The instantaneous fear and worry, the thoughts of "oh no, not again," and the immediate "prayer tweets" that hit Twitter's timeline were typical for fans that had just watched the unthinkable happen just two weeks earlier. "I called one of my colleagues and said 'did we watch somebody die?" Bomani Jones told CNN when discussing the incident. But yet, we're in the same place, hoping that the outcome will be less severe.
"After suffering a neck injury and concussion during the fourth quarter of last night's game, Russell was taken to a local hospital where he remained overnight for additional testing and observation. Russell has had movement in all extremities and will continue to undergo additional testing today. We will provide additional information as it becomes available," the team released in a statement on Tuesday morning.

Hopefully, Gage will be OK, as Hamlin cheered his teammates on from home as he continues to recover after the Bills defeated the Miami Dolphins 34-31 on Sunday. But, what isn't OK is that we needed incidents like these on consecutive broadcasts of Monday Night Football to remind us just how insane it is that NFL contracts aren't fully guaranteed.

When do salaries become guaranteed?
"You know what the NFL will tell you? Well, you know what, 'we'll look out for the people like him.' No, you won't... The Bills owner Terry Pegula [is] worth $6.7 billion," said Garrett Bush from The Ultimate Cleveland Sports Show a few weeks ago. "My question to you is, 'NFL, when do salaries become guaranteed, if you know these young men are going out there, and they could die on that football field?"

Earlier this month, we learned that NFL games accounted for 82 of the 100 most-watched U.S. broadcasts in 2022 — which was seven more than the 2021 mark that was 75 out of 100. Americans have proven that no matter what atrocities take place on a football field, they're still going to tune in. In March 2030, the NFL's collective bargaining agreement will expire. That means that players and their counsel have seven years to unify and come up with a plan to force owners to agree on guaranteed contracts.

It should be known that whenever the players and the owners battle/negotiate over labor issues, the owners typically get what they want — despite the players having all the power. In seven years we'll know if what happened to Damar Hamlin and Russell Gage helped save, and change, the NFL. But, if it doesn't, then all of those "thoughts and prayers" were just a waste of God's time.