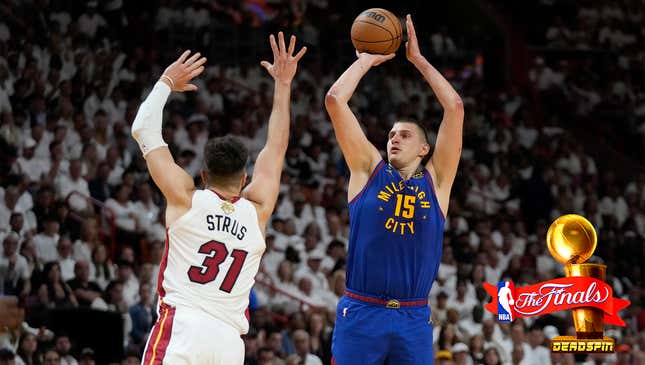 How many triple-doubles do you have to pile up before you get your own playoff persona? When do the pundits start referring to "Playoff Jokic?" to differentiate Nikola Jokic from what goes on October-April? One would hope that Jokic is close to it by now, seeing as how he racked up his 13th out of 18 games this spring. Maybe it's just expected that Jokic will dominate playoff games by now, given that he has two MVPs to his name. Except various pundits also wanted to shit on those MVPs because Jokic hadn't seen his team advance very far in the playoffs before. Well, now they have. What's left?

The Miami Heat are one of the great underdog stories in NBA history | Keep it a Buck(et)
And yet, you still hear about "Playoff Jimmy Butler." It seems Playoff Jimmy Butler's greatest trick was convincing the world that he existed. Game 3 of the Finals was the fifth straight game in the playoffs that Butler has been barely OK, middling, somewhat noticeable. 28 points on 11-of-24 shooting, -11 +/-. His last truly dominant game was three weeks ago.
He got away with it in Game 7 in Boston because Jayson Tatum got hurt and the rest of the Celtics were community Kabuki theater. The Heat got away with it in Game 2 because Bam Adebayo was so good and Michael Porter Jr. and Kentavious Caldwell-Pope suddenly couldn't hit a bull in the ass with a banjo.
Butler's numbers from the regular season to the playoffs are ballooned by his supernovas early in the Milwaukee and Boston series, and you can't take those away. But the rest looks pretty much the same as it did what we saw for six months while the Heat were meandering through the regular season looking for the keys. Meanwhile, Jokic has been a metronome of excellence every game of the run. There hasn't been a time when Jokic has shrugged or even cowered from what was on offer, and there definitely have been times when Butler has simply passed up shots or just sat out possessions. And yet he'll get credit for "facilitating." Gabe Vincent or Max Strus or Duncan Robinson go off and somehow, always, it's due to Butler's leadership and presence. All that self-marketing he's done seems to have worked a treat.
There's probably still a "Jimmy Game" or two in this series. There better be, otherwise, the Heat will be a Finalist we all forgot actually took place, much like their Bubble appearance which doesn't really count. Remember when OKC was in the Finals once? Of course, you don't.
Maybe when Jokic takes home a Finals MVP people will realize it's his numbers that have bounced up in the postseason, which is what everyone wants from a player they feel hasn't truly earned his MVPs. Or maybe Butler can keep sending checks to all the national NBA writers to get them to continue to peddle his brand. It's always been his best skill.
West Ham wins Europa Conference League in final minute
Sometimes, still, people ask me why I'm such a soccer fan. If I had to distill it to one thing, it would be Jarrod Bowen's goal yesterday that won the Europa Conference League for West Ham in the last minute. But not the goal itself. It's what happens behind the goal.
Watch how the form or shape of the West Ham fans in that stand changes, mutates into something else after the ball hits the net. It goes from a crowd to a formless mass of unbridled joy. It shape-shifts. It almost changes colors as arms flail and heads bounce and throngs suddenly are hugging four or six people at once. It's a wave cresting and breaking all at the same time. What else causes this mass transformation?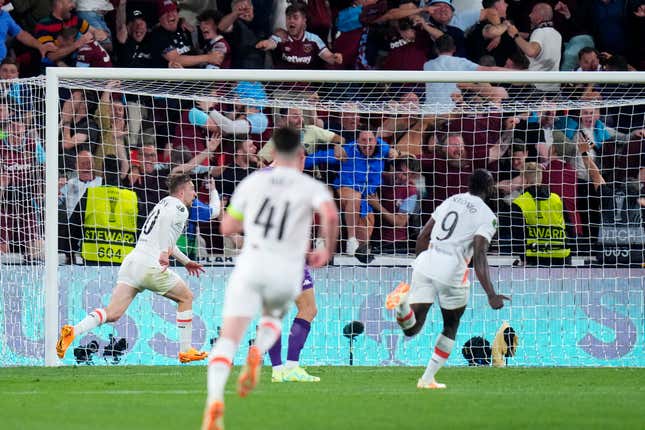 If you've been in one of these, at the stadium or in a bar, then you know.

Cincinnati Reds call up top prospect, he goes yard
Meet Elly De La Cruz:
The ball doesn't have a family anymore, because Cruz killed it through this one.
---
Follow Sam on Twitter @Felsgate.