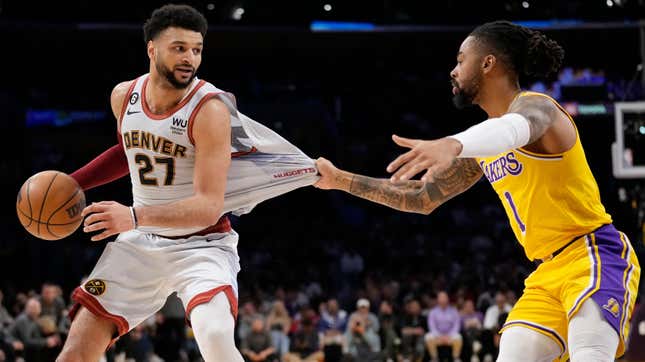 After a playoff series that highlighted why a 27-year-old former No. 2 overall NBA Draft pick could be playing for his fifth franchise next season, like clockwork, D'Angelo Russell couldn't help himself and did something dumb.
"I'm nice. I know who I am as a player. … I can be better than your point guard. I can be better than your shooting guard," he told Jovan Buha of The Athletic, about his game entering this offseason.
Grant Hill looks to repeat Team USA's 2004 "success"
Confidence is a necessity. Conceit is needless.

When the Denver Nuggets swept the Lakers in Game 4 of the Western Conference Finals earlier this week, it sent Denver to a place they've never been before — the NBA Finals — and Los Angeles back to the drawing board. And one of the first things that Lakers General Manager Rob Pelinka has to do is figure out what he's going to do with Russell, who is an unrestricted free agent.

During the conference finals, Russell only scored a total of 25 points. He came off the bench in Game 4 and finished his season with four points, two rebounds, and two assists on a night in which he only played 15 minutes and was 2-of-4 from the field. After multiple games throughout the series, Russell went back to the court to get up some postgame shots — it didn't translate.
Despite his cold shooting in the series, the meaningless shots he took after games, that asinine quote he gave about his abilities, and how bad he was on defense, what's so bothersome about all of this is that it seems like he hasn't learned from his past.

Russell secretly filmed Nick Young during his first Lakers stint
Russell's first stint with the Lakers was cut short after he broke the ultimate locker room code of conduct when he secretly filmed former teammate Nick Young discussing his dealings with other women when he was in a very public relationship with rapper Iggy Azalea at the time.

"D'Angelo, great guard, but had a problem when (Young) and the whole thing went down, so we had to get him out of there," said Magic Johnson during his time as the Lakers team president.
The Lakers sent Russell to Brooklyn for a fresh start. But before he could even play a game he was running his mouth — again — as he snitched on a teammate during his introductory press conference. "The workout was last night. Caris (LeVert) was supposed to be there, but he wasn't" said Russell as he blasted his new teammate for no reason.

To some, the comments were overblown and weren't a big deal. But, six years later, they're proof that he has a history of not understanding when to keep his mouth closed — whether it be about the personal lives of his teammates, their whereabouts for offseason workouts, or his unrealistic beliefs about his role in the NBA.

D'Angelo Russell is a former All-Star who can help out many teams in the NBA next season — maybe even the Los Angeles Lakers. It's just been interesting that he hasn't quite figured out that he could help himself by playing better and talking less.