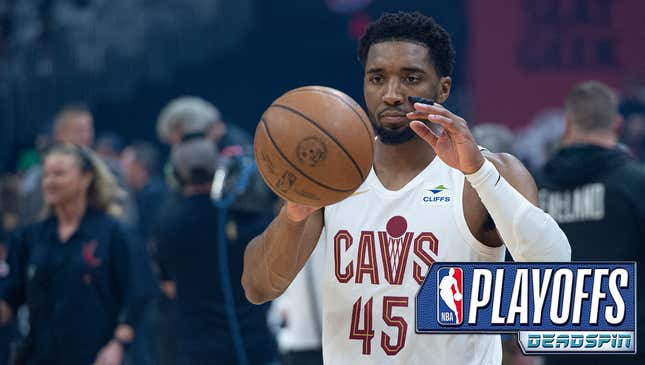 There's nothing worse than waking up after a long night of being a hot mess, knowing the "Are you alive?" texts from friends are going to start rolling in as soon as they wake up. You just want to bury yourself in the sheets and sleep through the whole ordeal. However, if you're the Cleveland Cavaliers, you're in luck because while you were on the front porch puking up Jell-O shots, the Milwaukee Bucks were streaking through the quad and getting picked up by campus security.
The Joy of Laughing at Knicks Fans | The SEO Show
Just on paper, losing to an eight-seed in five games is worse than a four-seed losing to the five-seed in a gentleman sweep, but if you paid attention to the Cavs-Knicks series, it was ugly. Donovan Mitchell only had one game where he shot over 50 percent from the field. Darius Garland made his playoff debut, and that was obvious in a bad way. The third-best Cav, Evan Mobley, never scored more than 13 points, and he and front-court partner Jarrett Allen were neutralized by New York's physicality.
Cleveland was outrebounded 227 to 186 for the series, and lost every game but one by double digits. The recipe all season for the Cavs was lean on a stingy defense and let the star backcourt takeover when needed, yet that's Tom Thibodeau ethos, the thesis statement of his memoir, the ace very much out of his sleeve.
Styles make fights, and Cavs-Knicks was Christian Bale versus Tom Hardy circa Dark Knight Rises. J.B. Bickerstaff tracked Thibs down to the sewers, got lectured, and then got his back broken. It doesn't help that Mitchell's offense is chained to his defensive effort, or that he was 13 for 45 from deep overall.
You knew the season was over within five minutes of watching Game 5. I was streaming it on the NBA TV app, which is always fun because they give you a live feed of the jumbotron during commercial breaks, and the Cleveland crowd had tuned out this team as soon as they fell down early.
My guess is a scapegoat will be named very soon, and I wouldn't feel great if I were JB right now. They needed a 3-and-D wing all season, so Koby Altman isn't entirely off the hook either. If you have Mitchell, Garland, Mobely, and Jarrett, all you have to be is league average at that final starting spot. If you smush Caris Lavert, Cedi Osman, and Isaac Okoro into one player like Play-Doh, then you'd have a well-rounded small forward, but the technology for that kind of procedure does not exist.
Whatever ends up happening, they're going to need more out of Mobley on the offensive side of the court for this team to reach its potential. His regular season average was 16 points per game, and he was limited to 10 a night by the Knicks.
So, yeah, Cleveland, you dodged going viral because Milwaukee showed its ass on NBA Twitter, but you need to get your shit together just as much as they do.
Here's hoping the Knicks and Heat fight flatfooted
The only good thing about Jimmy Butler still being in the playoffs is New York and Miami get to renew their vows after a long stretch of no meaningful playoff series. While there was a 2-7 matchup in 2012, one team had LeBron James, Dwyane Wade, and Chris Bosh, and the other had Carmelo Anthony.
This 5-8 iteration feels like it'll be a lot more competitive, with a lot more on the line. Both teams wake up every day and choose violence. I want Buckets and Jalen Brunson going toe to toe like Roberto Duran and Sugar Ray Leonard during the Brawl in Montreal.
You're going to need a rabies shot after every Knicks home game. That Madison Square Garden crowd is going to be delirious, and if you thought Trae Young was a heel, wait until Butler judo chops Brunson on a breakaway.
The over/under on players ejected this series is 17, and I seriously worry about Julius Randle's mental health. I also can't wait for Butler to take out a full-page ad in the Miami Herald admonishing Heat fans after 10,000 coked-up New Yorkers invade the Kaseya Center for Games 3 and 4.
Can't wait.