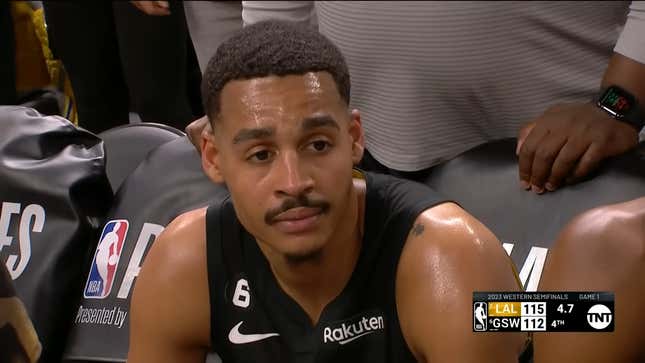 After nearly 48 minutes, the Los Angeles Lakers were spent as the Golden State Warriors were hitting their stride and discovering their second wind. Following a late flurry of points, the Warriors trailed by three in the final seconds when Jordan Poole launched a three-pointer from the parking lot. Poole's shot left a dent in the rim and slammed the door shut on Golden State pulling off a 1-0 lead.

Jordan Poole ruins Golden State Warriors comeback and… we're being too hard on him | Keep it a Buck(et)
Jordan Poole ruins Golden State Warriors comeback and… we're being too hard on him | Keep it a Buck(et)
After Poole clanked his game-tying three-pointer from an unfathomable distance, the groaning began from the peanut gallery. Over on Inside the NBA, Charles Barkley echoed his dislike of the shot while Kenny Smith acknowledged that Poole could have stepped in for a higher percentage shot. The NBA Twitter Live crew couldn't agree on a clear good, shot, bad shot verdict. As usual, Tim Legler examined it from a microbial level and took issue with Poole not taking a dribble to generate power from that distance.
Rob Riggle, Amin Joseph, Joshua Malina and more share NBA Finals predictions
On First Take, retired sharpshooter JJ Redick, on the other hand, said he had "no problem whatsoever" with Poole pulling the trigger from downtown.
"...[W]hen you do get a clean look, 10 seconds or under, you gotta take it," the former Duke star said. "You may not have another opportunity to shoot a clean look. ...He was open."
Shooters are going to shoot when they get the green light
You can blame the Warriors rendered analyzing what a good shot or bad shot is, obsolete for the hung jury. Jordan Poole is a trained gunslinger. He abides by different laws than Andrew Wiggins or anyone not named Steph Curry or Klay Thompson. One thing we know is that shooters are gonna shoot when they get the green light. But the distance Poole shot from was still jarring for casual observers. Poole had space between him and the nearest defender — Jarred Vanderbilt, who was nine feet away, Redick said, citing Second Spectrum — to step in and rise for the game-tying strike, but he settled. We shouldn't have expected anything else. Poole is a no-conscience shooter who made his debut on the national stage sinking a three-pointer from well behind the line to advance Michigan in the 2018 NCAA Tournament.
If Steph Curry, lord of the deep space three, had shot and missed that, the critiques would have been more forgiving. Instead, Poole is blamed as the impetuous and reckless id, but up until that point, Poole was firing heat-seeking missiles, scoring 21 points and drilling six shots from distance.

From Poole's perspective, that rim had been wider than SeaWorld's killer whale tank for much of the night. The frustration lies in the Warriors FOMO. Why settle for a long triple from Poole when he shared the floor with two of the greatest shooters in league history? Not having the ball in their hands during such a crucial juncture was a letdown for Curry, who was visibly dejected after Poole's shot.

Curry was above the break after swinging the ball to Draymond Green, but there was still another 10 seconds on the clock for him to wiggle open. Poole's biggest mistake may have come before the heave when he didn't create more space between himself and Green by moving deeper into the gap.

With time left to spring Klay Thompson open, Poole's shot just felt rushed. Thompson registered 25 points on 36 percent shooting, but was being outplayed by Poole. But in critical moments, Thompson is a more trusted crisis manager on the floor.

Furthermore, the Lakers defense was out of position. If Jordan Poole drives and dishes, he would have forced LeBron James to choose between him or Wiggins in the paint. Cut the lead to 1, foul, and live to fight another possession, this time with a potential two-point lead. Poole had already attempted a tough shot from that range before, but the result and Poole's kiddie table status with a veteran's role in the Warriors rotation leaves him more open to condemnation than his future Hall of Fame backcourt partners.

I thought Damian Lillard sending Paul George packing with a series-ending stepback, contested dagger ended the bad shot argument. During the 2019 playoffs, George was mocked for referring to Lillard's 37-footer as a bad shot.

Hell, at least Poole was open. Lillard eventually admitted it was a bad shot, but it didn't matter by then. Good shot or bad shot, it's all relative. Just as Charles Barkley can deliver shoddy analysis or jokes that would fall flat if anyone else told them or, the Warriors shooters have the leeway to get away with bad shots that go in more often than most player's "good shots." This time, the odds were tilted against them. Poole tested his luck and skill in a do-or-die moment and got rebuffed by the cylinder.

The biggest travesty is that we're back to squawking about what constitutes a bad shot or good shot in the modern NBA. Some arguments never die.

---
Follow DJ Dunson on Twitter: @cerebralsportex