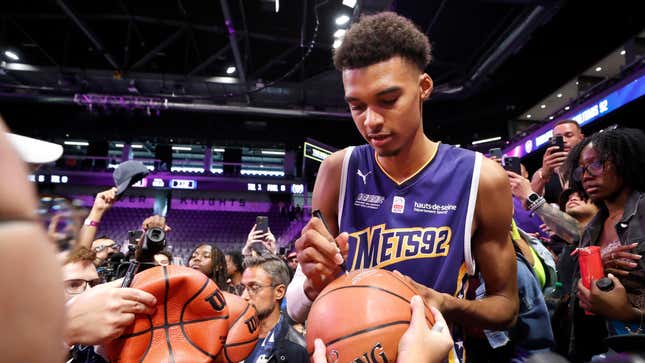 The conventional thinking is that Victor Wembanyama will be in safe hands with Gregg Popovich in San Antonio. But there's no guarantee that the Wembanyama era will be anywhere as fruitful as Pop's last dynasty or that he'll have the best career out of any prospect in this draft, but I wouldn't bet against Spurs' foundation.
Will Victor Wembanyama meet the Spurs expectations or end up a bust? | Keep it a Buck(et)
Will Victor Wembanyama meet the Spurs expectations or end up a bust? | Keep it a Buck(et)
San Antonio's David Robinson-to-Tim Duncan-to-Kawhi Leonard-to-Wembanyama continuity is rivaled only by the Marvel cinematic universe, the Green Bay Packers transitioning from Brett Favre to Aaron Rodgers, or the Indianapolis Colts passing the torch from Peyton Manning to Andrew Luck. OK, maybe that last one is a scenario the Spurs would rather avoid. But there are worse fates. Spurs CEO R.C. Buford has held down a role in the Spurs' front office since the previous general manager hired him as the head scout. The spark for Buford's rise was Popovich. Wembanyama might as well be a second-generation Spur after playing for San Antonio legend Tony Parker's ASVEL Villeurbanne club in France before signing with the Metropolitans 92 this season. He's already boosted ticket sales.

Grant Hill looks to repeat Team USA's 2004 "success"
San Antonio got 'The Process' right, not Philly
They're the Process that should be imitated, not the slapdash ADHD technique the Sixers have applied to their unfocused franchise for a decade. Nine years ago Joel Embiid was a generational big man who would have been the No. 1 pick in the 2014 NBA Draft if it weren't for back and foot injuries that threatened his future. Only after missing his first two years of rehab did Embiid begin morphing into the MVP we see before us.
Philly's No. 1 pick in 2016 was wasted on Ben Simmons. Instead of settling in as a superstar glue guy, Simmons imploded from the inside out. Markelle Fultz forgot how to shoot. These Spurs are a well-oiled machine with a streak of good luck that's the antithesis of Embiid's Sixers.

The best player out of the "Embiid draft," may have been second-round pick and two-time MVP, Nikola Jokić. The Chubby Serbian drafted during a Taco Bell commercial break has Denver three games away from the NBA Finals. No one saw that coming in their wildest dreams. Not even Jokic, who was checking out the back of his eyelids at the time he was drafted.

The Nuggets built around Jokic in a very Spurs-ian way, drafting brilliantly in the second round or late in the first. Jamal Murray was a seventh overall pick, but Michael Porter Jr. only fell to them at No. 14 in 2018 after a freefall. Bruce Brown is a rare chameleon, who can defend all five positions on the floor while still stretching defenses as a catch-and-shoot guard on the perimeter.

Wemby shouldn't have to worry about the same fate that befell Anthony Davis between 2012 and 2019, when the New Orleans Hornets/Pelicans couldn't draft into playoff contention after Anthony Davis dropped into their lap. In their second go-round with Zion Williamson, the Pelicans are stacked with supporting talent, while their former No. 1 pick has spent more time on the bench than suiting up for regular season games. That's just how it goes sometimes.

Spurs need to surround Wemby with a David Robinson-type
The whirlwind Windy and Wemby bromance won't be good enough. They'll always have Paris, but the Spurs' task at hand is to surround Wembanyama with a David Robinson-type veteran superstar or sidekick peers like Duncan had a supply of with Parker and Ginobili. Buford and Pop made their bones in finding and developing diamonds in the rough like Dejounte Murray or the aforementioned Parker and Ginobili. The contemporary Spurs' development of Devin Vassell, Keldon Johnson, and Jeremy Sochan could accelerate San Antonio's rebuild into a higher gear even if they aren't anything to get excited about yet. After the fallout from Josh Primo's exposure scandal, the Spurs are rotating temps at point guard. If Wemby is the marble pillar, a playmaking point guard is the load-bearing wall that will protect the future No. 1 pick from overuse.

Wembanyama to the Spurs is the culmination of three decades of serendipity. What happens next isn't etched in stone. Kawhi Leonard, Giannis Antetokounmpo, Nikola Jokic, Jimmy Butler, and Draymond Green were afterthoughts as prospects. There could be a prospect in this draft who has more success than Wembanyama. Popovich, 74, will probably retire to some vineyard before the decade is complete. Wembanyama's career trajectory could align with Embiid or Jokic if he's healthy. Wembanyama to the Spurs is the culmination of three decades of serendipity, but fate can be tricky.
---
Follow DJ Dunson on Twitter: @cerebralsportex