The dispute surrounding Adrian Peterson's reinstatement—or lack thereof—after pleading no contest to child injury charges is heating up. Late last week the NFL Players Association sent a letter to the NFL demanding Peterson be reinstated. That tactic apparently failed, as today the NFLPA announced that it had filed a grievance on Peterson's behalf:
The NFLPA has filed an expedited, non-injury grievance to remove Adrian Peterson from the Commissioner's Exempt list based on explicit language in a signed agreement dated September 18, 2014. We asked the NFL to honor the terms of that agreement last week and as of now, they have failed to respond or comply. It is our obligation to protect all players' rights, and we will pursue any and all breaches of any contract between a player and his team or the NFL.
Meanwhile, the NFL doesn't see what the big deal is. Their response to the grievance filing says that they are considering what additional discipline (if any) should be imposed upon Peterson, and that they're waiting on him for information to complete this process. Via Adam Schefter:
We have received the NFLPA's grievance on behalf of Adrian Peterson. We have honored our commitment to Mr. Peterson and the NFLPA not to process or impose any discipline until the criminal charges pending in Texas were resolved. When Mr. Peterson decided not to contest criminal charges, we promptly advised both him and the NFLPA that we were prepared to consider what, if any, discipline should now be imposed under the Personal Conduct Policy. We asked Mr. Peterson and his representatives, including the NFLPA, for relevant information. We have not received any of the requested information, but remain prepared to schedule a hearing and make a determination as quickly as possible based on as much information as available.
When Peterson was initially placed on the Commissioner-Exempt list back in September, there was a letter sent from the NFLPA general counsel to the NFL general counsel, and signed by both. Pro Football Talk obtained the letter and quoted some of it, which seems to somewhat support both positions. Via PFT:
The player agrees that, effective as of yesterday (September 17, 2014), he is placed on the Commissioner-Exempt list with full pay until the criminal charges currently pending against him are adjudicated. No discipline will be processed or imposed against the player, by the Club or the League, until after the pending criminal charges are adjudicated.
G/O Media may get a commission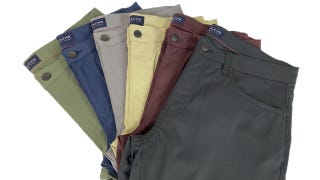 JACHS NY Fall Stretch Tech Pants
Since the "criminal charges currently pending" against Peterson have been resolved, it seems that he should be removed from the Commissioner-Exempt list, which is what the NFLPA is asking for. But the letter also doesn't eliminate the league's power to levy an additional suspension upon Peterson if they so desire, which is what the NFL says that it is considering. They want to leave him on the Commissioner-Exempt list while doing so—which lets them take their time in considering punishment—while Peterson and the NFLPA want the entire process sped up.
The only thing that seems certain at this point is that more lawyers will get involved.
Photo via Bob Levey/Getty