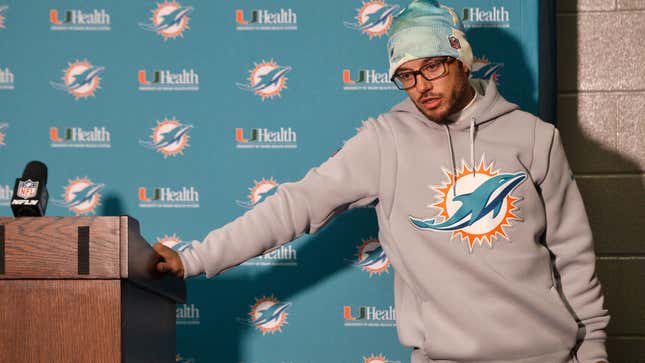 Hey, what a SUPER Wild Card Weekend, am I right? We might not have seen great NFL football, or great officiating, or even great decision-making from players and coaches alike, but we did see plenty of chaos. And, as we all know, chaos is where the real fun begins — unless your team is the one fumbling around in the dark despite the harsh glare of the national spotlight. But with apologies to Minnesota Vikings, Miami Dolphins, and Baltimore Ravens fans, let's take a look at some of yesterday's truly-terrible-but-als0-kinda-hysterical game-ending decisions.
Jim Harbaugh's failure at Michigan
Gotta get the play in, Mike
We'll start with the first game of the day, Dolphins-Bills. Could Miami survive and advance without Tua? Is Josh Allen the next Patrick Mahomes? Is this finally the year the Bills Mafia gets their ultimate reward? Well, maybe. And this one was a lot closer than it probably should have been, thanks to three turnovers from Allen. Nevertheless, America waited, breathless, on the edge of its seat... as Miami head coach Mike McDaniel inexplicably let a minute expire without getting a play in. Look:
So what did McDaniel have to say for himself afterward? Reader, he said this:
"There was some crowd noise that had to do with mishearing some reading of digits of the wristband. There was some issues within the huddles of communication and getting to the line of scrimmage.

"And there's the excuse that you don't use, that is a real compounding variable, that there is a multiple amount of different people in the huddle, where communicating — when you're in a nice routine, or maybe there's a group of offensive linemen that are being communicated to by the same person. When you have flux like that, it happens, it shouldn't happen as much as it did.

We were deploying a group of players for the first-and-10 call. It was articulated that, no, it was fourth down. That miscommunication — that's all the stuff that you do in this business. You never stop finding the things that you can improve on. And it was a piece of the reason why were unable to come out with a victory. But it definitely wasn't the only reason."
That's really more of a description of what happened than an explanation, but okay. The worst part was that McDaniel said all of this while still wearing a truly terrible Dolphins' hat, which I get was supposed to look distressed and edgy, but just wound up looking like several people had sweated in it multiple times. Yarg.
Kirk Cousins: Never not conservative
Up next, we have the Vikings and Giants, and kudos to our Jon Hoefling for calling this one correctly. The Vikings never looked great (though Kirk Cousins actually played pretty well), but at no point did they look worse than on the final play:
So, there's no way this was the actual play call, right? This had to be a check down. And if you're going to check down on a play that has the entire season riding on it, what do you even have Justin Jefferson for? Seems like the time to let one fly and hope Jefferson grabs it was in the final seconds of a game with the postseason on the line, no? Alas. It doesn't even matter how well Cousins played on Sunday — this is the only play anyone is going to remember.
Here's what Cousins had to say:
"Yeah, it was just a shell read there. I saw single-high (coverage) and tried to work Justin (Jefferson) and didn't feel good about putting it up to Justin. And when I went to progress, I just felt like I was about to get sacked. I felt I had to put the ball in play. I couldn't go down with a sack.

So I just kicked it out to T.J., and I had thrown short of the sticks on a few occasions in the game and going back a few weeks. I just felt like throwing short of the sticks isn't the end of the world, and it was obviously tight coverage. But I felt like I was going to go down and take a sack and put it out."
Understandable, I suppose, but you can't dance around post-win shirtless in giant chains and then take the safe option when it matters. Cousins has always had a reputation for being too conservative by half (on and off the field), and Sunday's decision isn't going to change anyone's mind.
Finally, we bring ourselves to the final Sunday game, Ravens-Bengals. We all knew Lamar Jackson was on the bench for this one, which was the source of some disappointingly low-key beef among former players. Still, even without Jackson on the field, Baltimore had a chance.
What the hell was John Harbaugh doing?
Head coach John Harbaugh was off to a rough start, having been a complete jackass to sideline reporter Melissa Stark before halftime:
Harbaugh's bad day continued, with his team going into the huddle TWICE during the final minute of the game, trailing 24-17. Not only that, Harbaugh left TWO time outs on the board until there were only 8 seconds remaining in the game. And then Harbaugh took a time out with the clock already stopped. What in the name of all that's holy...
Guess what happened? THEY RAN OUT OF TIME. QB Tyler Huntley heaved one towards the heavens that Baltimore almost came down with. Imagine what they could have done if they'd actually, oh, I don't know, used a time out to reset and call in a play? Have we not reached the point in American football where kids spend years learning clock management via Madden? Isn't there anyone on Harbaugh's staff under 40?
Anyway, here's what Harbaugh had to say:
"We wanted to save the timeouts for the red zone. The thing that killed us was the holding penalty. That knocked us back. The idea was, we wanted to keep those timeouts to throw the ball. So, we tried to pop a run there, we were gonna call a timeout after that, and we would still have a run/pass option. We wanted to score without giving the ball back. We think we're going to get in the red zone, we think it's going to be a certain number of plays, and we're going to work right down to the end of the game. Rather than score with 30, 35 seconds left, you give them a chance to go kick a field goal at the end.

"So, I think we played it right. Didn't work out in the sense that after that, we had incomplete passes. If you complete the passes, you get the ball in the red zone, you call the timeouts. So, I think that at an elementary level, you can say, 'Ah (expletive), they should have used the timeouts.' But we had the timeouts worked right."
In the iconic words of J. Peterman, that certainly is a lot of words. I don't really know what to say except that nothing about that final minute "worked right," there's no way Harbaugh is going to convince anyone it did, and saving your timeouts for the red zone only works if you can actually get to the red zone.
I can't wait to see what tonight brings.