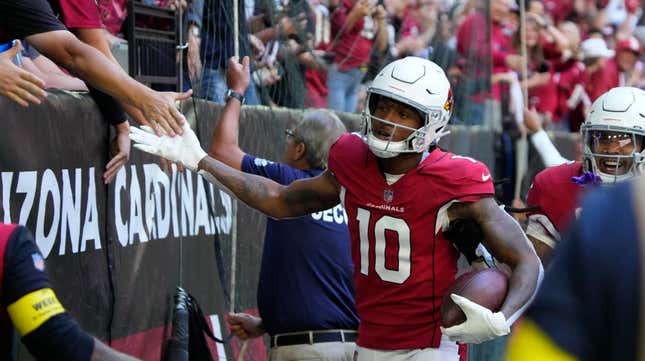 If you love the behind-the-scenes aspect of the NFL with trades and free agency, you'll love this. People often wonder how trade rumors get started, and if you're one of them, DeAndre Hopkins gave a crash course on how to light the match that ignites a rumor. While trade talk about Hopkins has been out there, he was in Dallas with former Cowboys star Dez Bryant recently and claimed he's been hearing his name in regard to playing in Big D.
Which under .500 team makes the NFL Playoffs?
"I keep hearing y'all say my name around here. What's up? Talk to me."
The crazy part of all this is no one had really heard anything about Hopkins to Dallas until he mentioned it in this video with Bryant. His name hadn't been boasted much in relation to the star until he put it out there. Of course, the Cowboys would love to acquire the services of Hopkins, and he was drafted by the Texans, so he has ties to the state already. It's funny to see how quickly a rumor can spread, but we know the source this time.
This type of thing is usually done in the background by an agent or sometimes even a team. Hopkins skipped over the middleman and said let's get this going ourselves. Social media and self-promotion that's what it's all about today. For any other players that want out of their current situation, start your own trade rumor and call out names. In a matter of seconds, D-Hop created buzz where there essentially was none.
Whether Jerry Jones is willing to fork over what it would take to get Hopkins to Dallas is another issue. After trading for All-Pro cornerback Stephon Gilmore, expecting Jones to make an even bigger move in free agency would be asking a lot. Hopkins, Ceedee Lamb, and Michael Gallup would be an amazing trio of wide receivers. Again, this will all come down to Jones. Hopkins needs to slide in his DMs and get the conversation started. Since he's resorted to taking matters into his own hands.