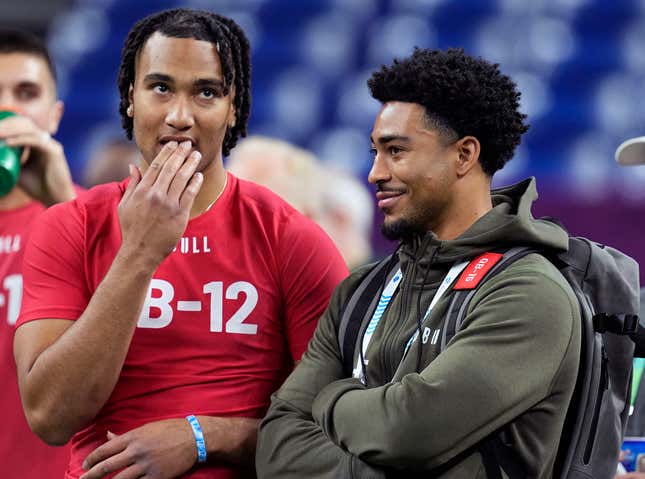 There is a 99.999 percent (with unlimited 9s) chance former Ohio State quarterback C.J. Stroud or former Heisman Trophy winner and Alabama signal-caller Bryce Young will be the No. 1 overall selection in next week's NFL Draft to the Carolina Panthers, who traded up eight spots to get a key cog in their franchise's rebuild. You don't give up that amount of capital to have Roger Goodell call the name of anything but a quarterback. The only minuscule doubt that a Buckeye or Crimson Tide alumnus will be the top pick comes from a crazy idea that Anthony Richardson or Will Levis would usurp the higher-rated duo. And if that happens, welcome to the craziest draft of all time.
Will CJ Stroud or Bryce Young have a better rookie season? | Agree to Disagree
With the not-getting-struck-by-lightning odds, and winning the lottery the same day, of Young or Stroud going No. 1, who is the better fit for the Panthers? They had a great franchise quarterback for most of the last decade in Cam Newton who is currently a free agent, so the team can clearly handle one, unlike some franchises in the league who play roulette with whoever throws the football. *Cough Commanders cough* And I believe it's Stroud.

Stroud and Young are similar in that they did it all in college. Both are mobile and solid passers, and while neither has incredible arm strength, both are more than adequate for the NFL. A slight edge to Young exists in terms of passing accuracy and making fewer unforced errors. The biggest advantage Stroud has come from his height and ability to read a defense. The former Buckeye has five inches on Young. And quarterbacks 5-foot-11 and under, with Young at 5-foot-10, have proven to be harder to build a franchise around. Jalen Hurts looks small in stature compared to the rest of the NFL's elite quarterbacks, but he's still 6-foot-1 and will reportedly become the highest-paid player in NFL history.

Stroud vs. Young on the field
Young's height is only one measurable, especially since he was effective against a litany of Southeastern Conference defenses, with more players going to the NFL from one of its 14 league schools than any other collegiate conference. The competition in the Big Ten isn't as strong, but Ohio State with Stroud in command did everything it could to torch most opponents. And Alabama played in a lot of closer games in the more-daunting SEC West. There will be an adjustment period for both in the league, but what hot-shot college quarterback hasn't had growing pains along the way? Patience will be needed, like in the case of Trevor Lawrence, who was a can't-miss prospect of epic proportions and finally turned a corner last season.
Stroud has a huge security blanket in Miles Sanders and a ready-to-win-the-NFC-South defense on the Panthers. The Buckeyes had the most-loaded wide receiver room in the country while Stroud was in Columbus. And yes, Young's wideouts were fantastic too, but Stroud showed how he can spread the ball around much better than Young did. Carolina doesn't have that cupboard of weapons on the outside. In fact, the Panthers' best receiver, D.J. Moore, was traded to Chicago to acquire the top overall pick. Stroud relied less on his legs in college than Young and that's exactly where he'll need to shine to make it in the NFL. He won't need to be Superman, and his skill set is better for what the Panthers need right now.

I've never believed the notion that the franchise hasn't had one player in mind from the second the Panthers inquired about the No. 1 overall pick, much less attaining it. If there was no preference and Carolina was genuinely fine with both guys, why go after the top pick and lose more assets to a brighter future? It wouldn't shock me at all to see the Panthers take Young, it's hard to argue with his success. Stroud serves the organization better and is the right piece to the puzzle in one of the weakest divisions in football.