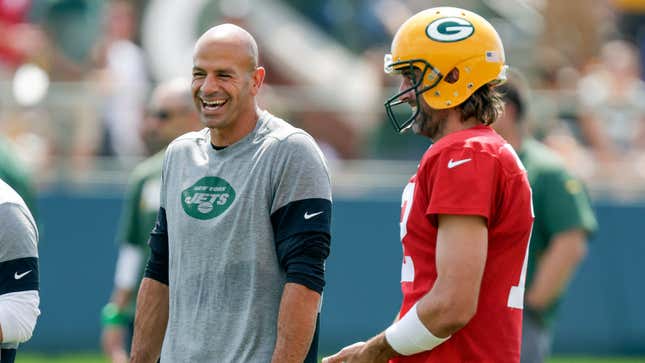 The New York Jets are in a potentially awkward position if a deal to land Aaron Rodgers from the Green Bay Packers continues to stall, as Charles Robinson of Yahoo noted it has — or doesn't materialize at all. Gang Green could be lurking in the quarterback wilderness looking for a solution at QB once more.
Will Aaron Rodgers stay in Green Bay or is he New York bound?
The 2022 NFL season was a step in the right direction for the Jets. The defense made major strides to become one of the most feared units in the league and the 2022 Draft class, led by Sauce Gardner and Garrett Wilson, popped. New York was flying high, but bad quarterback play across the board pulled the team down.

Zeroing in on Rodgers makes sense. The Jets have a roster that's equipped to win now and the veteran signal-caller makes them an instant contender — but negotiations aren't always easy. If a deal does break down, what should New York do to solve the gaping hole under center?

Trade for another quarterback
Let's start here and throw out a name: Lamar Jackson. The non-exclusive franchise tag placed on Jackson means that any team is free to negotiate a long-term contract with him, and if the Ravens decline to match the offer, they'll get two first-round picks in return. If the Jets are prepared to pay that price — and they should be more willing to do that deal at that price as opposed to paying the No. 13 pick for Rodgers — then they're in business.

In some ways, Jackson makes more sense for the Jets than Rodgers. He's also a former MVP, but he's only 26 years old and firmly in his prime. Trading for and signing Jackson to an extension ties the Jets to a franchise quarterback long-term, as opposed to what could be construed as a one or two-year rental with Rodgers. Such has been the nature of discourse surrounding his retirement. (Rodgers told Pat McAfee he was "90 percent retired" heading into his darkness retreat.)

If the Jets were keen on trading for a quarterback who wasn't Jackson, they'd still have options. Ryan Tannehill might not have a long-term future in a Titans team that could well be looking to rebuild, and while he isn't the quality of Jackson or Rodgers, he's proven that he can effectively lead an efficient offense. Names like Trey Lance or, to a lesser degree, Mac Jones could also be on New York's radar.

Trade up in the 2023 NFL Draft
The next best step for the Jets is to target a quarterback in this draft class. It would be a lot of pressure for a rookie to come into a team that wants to compete now and lead them to the playoffs, but the Jets have a strong ecosystem to support any would-be signal-caller. The offensive line has the makings of a strong unit, especially if Mekhi Becton returns, the running game with Breece Hall has the chance to be special, and they have a stud receiver in Garrett Wilson.

Targeting a ready to go quarterback in the draft almost certainly means that the Jets are going to have to trade up from No. 13 into the top four. Historically speaking, the Jets are going to have to give up another first round pick at the absolute minimum. It's safe to assume that the price may be in the region of No. 13, a 2024 first, and a 2025 first. That's not cheap. But if they like a quarterback enough, think of C.J. Stroud in this offense, it's worth it. Those '24 and '25 1sts will likely be in the late 20s anyway. It's still expensive, but easier to justify if the Jets are good right away.

They still might be able to grab a Will Levis or Anthony Richardson at No. 13, but both come with question marks.
Put this one in the maybe pile. The Jets could hold on until draft day and see where the chips fall too. There's every chance one of those quarterbacks could fall just a little and make the price easier to stomach.

Hang tight for one more year/a late-round option in the draft
Undoubtedly, the most unpopular option on the board. Robert Saleh has consistently said that Zach Wilson has a part to play in this franchise moving forward, but that feels more like sweet talk than anything. He and the front office have seen what Wilson brings to the table and they don't like it. So would they be willing to endure another year of Wilson under center?

By some divine miracle, Wilson could grow into a serviceable starter in his third season and end any discussion over what the Jets should do at quarterback. However, it seems more likely that the Jets would be in the same predicament as last season. Or maybe they could take a chance on a late-round prospect like Dorian Thompson-Robinson or Aidan O'Connell. It doesn't whet the appetite though.

That could set them up nicely to be in contention for a quarterback in 2024, but this team wants to win now and Saleh might not have the backing of the owners to survive another losing season. This is the worst-case scenario for the Jets. For their sake, hopefully, a deal with Rodgers gets worked out soon.