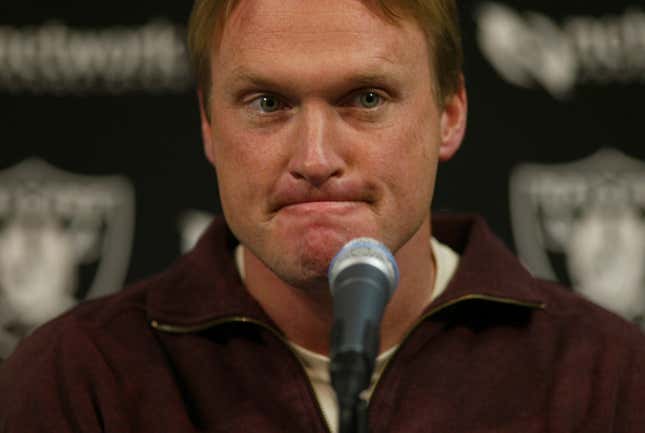 Remember when an NFL team had to pay Jon Gruden $100 million to lure him outside of the booth? There was a time when front offices watched Monday Night Football, and were impressed by Gruden's QB camp. Cam Newton or Andrew Luck or Patrick Mahomes would wander into a film room, and sit through Chucky's Kurt Russell playing a coach impression and nod as he said shit like Spider 2 Y Banana.
5 Richest active NFL players | Money Mondays
Well, like that unkillable doll, Gruden is back, baby! The New Orleans Saints have reportedly brought him on in an advisory role to help Derek Carr learn the offense. The 59-year-old social pariah masquerading as a consultant had Carr as his quarterback with the Raiders until racist, sexist, and homophobic correspondence canceled Gruden's career.
Since then, he's spent his free time suing the NFL because it selectively leaked only his emails out of 650,000. Apparently, he's still holding out hope for another shot on the sidelines despite pending litigation against the Shield. It's similar to the Brian Flores situation and yet very different all at the same time.
The case for Gruden coaching again
Next question.
The case for a team falling for Gruden's schtick again
To be fair, Gruden runs an impressive ruse, and if Tennessee hadn't found Josh Heupel, they probably would've hired him within minutes of hitting the coach's carousel after resigning in shame. Instead, he's finding it extremely hard to market himself and his Super Bowl ring on Truth Social. Even though most NFL owners likely have a burner account on the Donald Trump platform, they're savvy enough to know better than to be the first franchise that completely forgives Gruden.
New Orleans is simply testing the temperature to see if they can have someone other than Dennis Allen teach Carr the offense, and gauge how the public, players, and current staff react. If nobody cares, then Chucky will probably be in line to take over once Allen gets fired. I'm trying to do my part in keeping Napoleon on Elba, and I sincerely hope I'm not the only one pushing back.
There are receipts for this gas bag, and the statute of limitations doesn't apply to the court of public opinion. The only job he deserves is the Missouri State gig Bobby Petrino vacated this offseason to go call plays at Texas A&M. College sports fans accept morally reprehensible hires all the time because that's the only way their shitty school ever lands a big name, and thank you, St. John's, for proving my point.
If Gruden plays this right/is enabled properly, some desperate franchise run by a sleazy owner — *cough* Cleveland *cough* — will take a swing. We'll get a PR campaign trying to make the coach sympathetic because he was "unfairly targeted," and fans will what about it to death.
All it takes is a few hundred Twitter trolls to convince an organization that the wrong thing is actually the right thing to do. Ideally, this iteration of the Jon Gruden quarterback camp is as hollow as the last, and doesn't result in generational wealth.