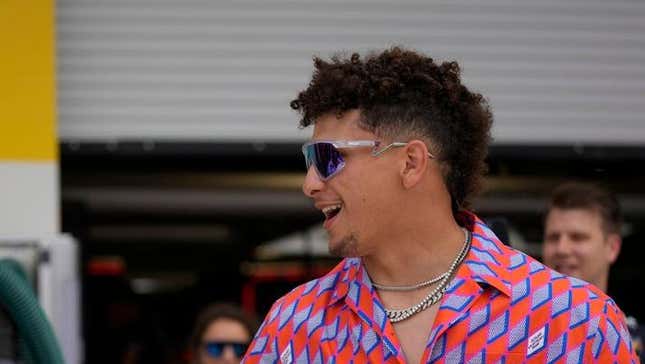 What do you get when an NHL team can't find a new home combined with a two-time Super Bowl MVP trying to court the outcast franchise to the city he plays in? A social-media smackdown! One combatant was Patrick Mahomes, whose younger brother, Jackson Mahomes, was recently arrested and charged with aggravated sexual battery. Also involved was Makayla Perkins, the social media director for PHNX Sports, a website that covers Phoenix's sports teams. And if it wasn't clear, the Coyotes are the likely soon-to-be-abandoned team by the state of Arizona. The exchange started with a rejection to build a new arena for the Coyotes in Tempe. Speculation ramped up as to what city would welcome the Arizonians, with Kansas City being a popular selection.

And as it goes in Kansas City, Mahomes plays cheerleader for all things in Missouri's most populous town, including a should-have-been harmless tweet about bringing the Coyotes to the barbecue mecca, neighboring with the Chiefs, and Royals. Downtown Kansas City already has an arena big enough to house the Coyotes, near the popular Power & Light District too, in T-Mobile Center, which hosts the annual Big 12 Conference Tournament for men's basketball among other events. Mahomes tweeted: "KC coyotes has a nice ring to it! @NHL what y'all think? @tmobilecenter."

That drew the ire of Perkins, who of course has a job to create engagement on social media. Mission accomplished with the reply: "Maybe you should focus on keeping your little brother out of jail and less on our NHL team." Interesting use of the word "our" for someone who's supposed to be neutral and cover Arizona's professional teams. But damn, what a tweet. Patrick Mahomes' brother's troubles are an easy punching bag these days. Perkins swung and didn't miss. Neither the Coyotes, nor either Mahomes, has commented on the matter. Perkins has been retweeting people singing her praises since the message ever since. It's unclear whether Jackson Mahomes will go to jail for the battery charges, as he's yet to face sentencing. Being the meal-ticket younger brother of the best player in the NFL gets his wrongdoings blasted all over the internet. And for that, all the low-hanging fruit, like Perkins' semi-inappropriate tweet, is fair game, just like when we see a player from the Houston Coyotes score a goal in two seasons.