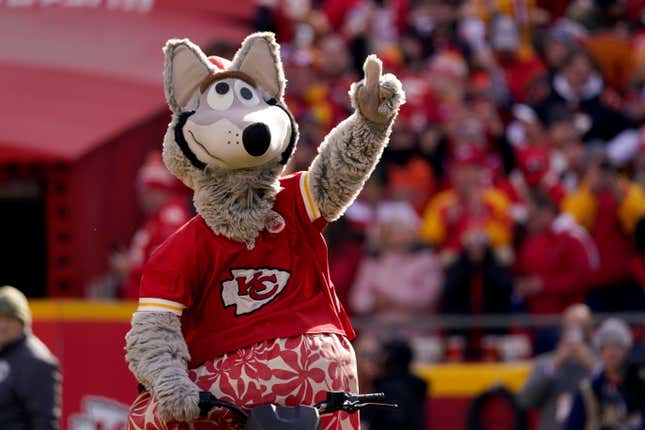 The NFL's wanderlust has led to the league potentially moving a Kansas City Chiefs home game to Germany. Whether or not that occurs is still up for debate, but we should know by Thursday's schedule reveal. But if the NFL does export its premier team to Europe's unofficial football capital, chances are they'll be sending Patrick Mahomes, Chris Jones, Andy Reid, (hopefully not Jackson Mahomes), and a rat. Or a wolf, I should say.
Mahomes or Hurts? Who will win NFL MVP? | Agree to Disagree
I'm talking of course about KC Wolf. The Chiefs mascot's last name indicates he's a wolf, but living in New York, I know a rat when I see one. KC Wolf is a rat bastard. It's all confusing. Imagine how confused Germans will be by the defending Super Bowl champions riding into town with a ratty mascot. Relax. I didn't say he was a rat, just that he was ratty. There's a difference.
KC Wolf voted the NFL's worst mascot
Before the 2022 season began, the Chiefs' googly-eyed mascot was voted the NFL's worst. For good reason too. No seriously, look at this thing. The flower-print pants, the unkempt hair, and the soulless stare are what earned him low regard among mascots. It's time for the NFL's best brand to drop the mangy mascot.

The Chiefs are named for former mayor Harry "Chief" Bartle, but their mascot prior to the gray wolf was a pinto horse named Warpaint. KC Wolf was born as a replacement for Warpaint and named after the "Wolfpack Club" a group of rowdy fans in the old Municipal Stadium. Since then, he's been through the wringer and the mascot looks like it. He even inspired a notorious wanted criminal. For 33 years, Dan Meers has donned the suit, but all things must end.

The Wolfpack belongs in the past alongside Warpaint and the Tomahawk Chop. For the past few years, ChiefsAholic and Jackson Mahomes have been the Chiefs' mascots anyways. If the Chiefs aren't going to rid themselves of the outdated team name, the least they could do is dump the wolf.