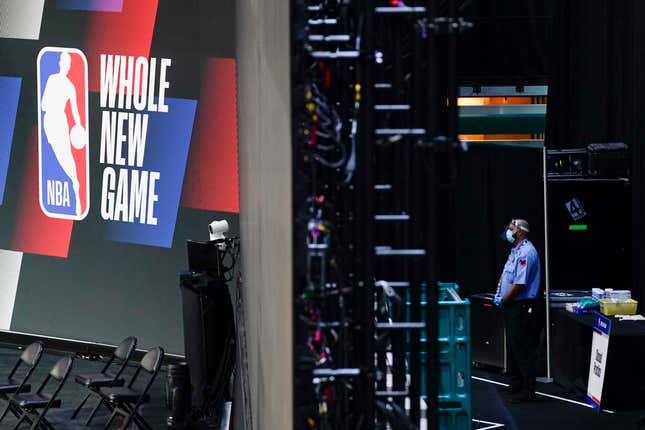 Now that COVID is officially over, and everyone can throw their masks in the trash, (Is that how this works?), it feels like a good time to declare that sports beat COVID. If you're wondering who was keeping score, I was, and sports handily outlasted the virus — that killed very few, if any, athletes, and certainly no active figures of note — to the tune of 276-35. It was a bludgeoning.
Comebacks are only fun if your team wins | The SEO Show
The only real loss was the men's and women's NCAA tournaments in 2020, because MLB, the NBA, NFL, NHL, and EPL never let science or contact tracing dictate whether it was "safe" to carry out a 17- or 72-game schedule (not including playoffs).
Where's George W.'s "Mission Accomplished" banner? Let's get Roger Goodell, Gary Bettman, Rob Manfred, and Adam Silver on a Helicarrier ASAP and unfurl that baby — without reservation this time.
*Nasally, condescending Anthony Fauci voice* "You can't hold an NBA Playoffs in a bubble!"
Hold my fucking beer. Not only did the Association turn Disney World into a QZ a la The Last of Us, they created ideal conditions for a fragile Los Angeles Lakers team to get, and stay, healthy enough to cruise to a title.
Yes, I know that there were rumors of an outbreak in the Phoenix Suns locker room during the Finals the next season, but they were just that: Well-reported stories after the fact. Even the players benefitted as random games missed due to health and safety measures conditioned fans to a new era of load management — a new normal, if you will.
Look at all the special sports moments during the pandemic that got fans, with very few reasons to exist other than their beloved teams, through hard and lonely times. Society needed a hero to break the endless cycle of masturbation and video games, and sports leagues were real-life Avengers.
The NFL played every game, and nobody died. (Coincidentally, someone almost dying on the field is the only way the NFL will cancel a game.) Sure, a wide receiver suited up at QB for the Broncos, but Denver sucked anyway. Tom Brady got another championship, and so did Clayton Kershaw, the Dodgers, Liverpool, and Giannis Antetokounmpo.
Big-time players and big-time franchises winning titles generate big-time revenue, and that's a W for sports, and the people who obsess over them. It's also further evidence that, despite being around for a nanosecond of this planet's existence, sports matter and are vital to the fabric of the human experience.
Athletes pioneer the pandemic
As is America's way, the sports industry pummeled COVID protocols into the ground, led by staunch coronavirus and vaccine critics like Kyrie Irving, Aaron Rodgers, and John Stockton. Irving navigated his way around needles like perimeter defenders, and was able to come out unvaxxed and vindicated by New York City's mandates. He didn't miss a home playoff game — this isn't Canada after all — and the only clean bill of physical (and spiritual) health he needed was from his shaman.
It was a combination of crystals, Pat McAfee, and Ivermectin that got Rodgers through isolation, and he was able to win back-to-back MVPs in the process. Postseason showings, a messy divorce with the Packers, and public approval be damned, No. 12 is now living his best life on the streets of Manhattan as a new member of the New York Jets, free to cough and laugh on as many New Yorkers as he pleases.
Meanwhile, up in the Pacific Northwest, Stockton was conducting valuable research on the effects of the vaccine, and in the process exposed the risks of being vaccinated and educated. He galaxy-brained his way to the career assist record, and clearly retirement only sharpened that wit. He dropped dimes on epidemiologists in a groundbreaking (and I'm assuming now-removed) docuseries "Vaccines Revealed" on YouTube, and gave validity to all the other unofficial experts digging into the data that Joe Biden won't share or acknowledge.
Did you know that the vaccine was causing instant death syndrome in college and high school-aged athletes across the country? John Stockton did, and it had nothing to do with the skyrocketing mental health crisis foisted upon young people because they just wanted to have a normal prom, college experience, or life.
A will to carry on at any cost
No one needs physical interaction with other humans unless the money they generate from doing so sustains billion-dollar industries that opted not to pay minor leaguers or stadium workers during the pandemic, or student-athletes ever.
Scott Frost and Nebraska football know how much the Cornhuskers mean to the state, the university's bottom line, and the coach's salary, so they sued for the right to go 3-5. As far as win percentages are concerned, that was his second-best year at his alma mater, and it's a season, and team, no one in the Heartland will soon forget.
Outside of bars in rural Iowa, one could argue that no industry was more fearless and careless when it came to COVID than sports. Let's get a bunch of sweaty people together to grind, bleed, and pant on each other, and then send them to hotels to spread COVID to their floozies in each of the nine cities on the 10-game road trip.
(And if you think that Danuel House was the only player who snuck women into places they weren't supposed to be, you probably think Santa Claus could go to every home on earth, mask-free, and not catch COVID.)
Society could collapse in on itself, with Sofi Stadium at the bottom of the Pacific, and the NFL would still find a way to play the Super Bowl. So COVID and the rest of the haters can go suck a brick because everything is a competition, and sports, like the Big Baller Brand, has never lost.