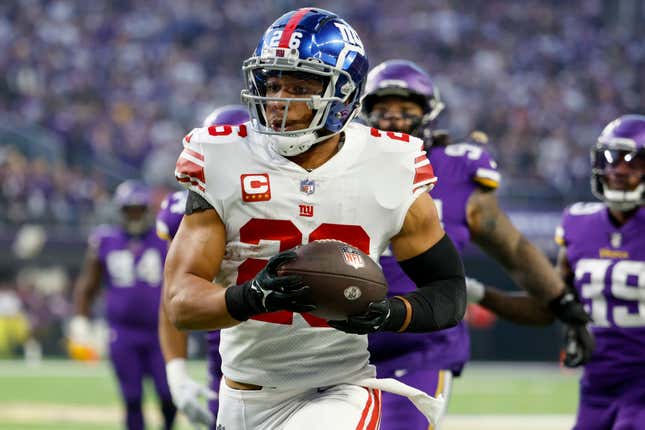 Last week, sports bettors across America chose the New York Giants to upset the Minnesota Vikings. According to OddsChecker US, 83.3 percent of bettors were putting money on the Giants to win outright last week. That's nuts! Bettors have cooled off on the G-Men since. Only 50 percent of bets are being placed on them to take down the Eagles this weekend. However, 13 percent of Super Bowl bets are being placed on the Giants, as opposed to 5.6 percent going in favor of the Eagles.

Rob Parker's NFL Picks for Week 15
What are the odds?
The Giants are coming into this game as 7.5-point underdogs. That seems massive — and it is — but the Giants have overcome worse odds recently. Big Blue beat the Packers in London earlier this year as eight-point 'dogs. Meanwhile, the Eagles lost a game as 10-point favorites, when they were handed their first loss of the season by the Washington Commanders. Essentially, while Philly may be a huge favorite, we've seen both teams involved in this contest pull off the opposite of the expected result.
Sure, Daniel Jones may not be the most experienced playoff quarterback, but neither is Jalen Hurts. This is both players' second career postseason game. Jones has a win in the playoffs though; Hurts doesn't. I'm not saying Jones is the better quarterback, just pointing out that fact.

These teams know each other well
While divisional games are notoriously tough to pick in the playoffs, the Giants have been absolutely manhandled by the Eagles in recent years. The last Giants' victory in Philadelphia came in 2013, and over the last 10 seasons, the G-Men are an abysmal 4-16 against Philly. The Eagles also beat New York twice this year, but one of those games was during the final week of the season, when New York had already sewn up the NFC's sixth seed. They weren't playing their starters, and yet somehow, they managed to keep the game close, losing by a final of just 22-16 in Philly. Perhaps that's all the confidence the team needs to go into this game with their heads held high, knowing they can take down these green birds.
Who wins?
On paper, the Eagles are obviously the better team. New York wasn't a top-10 offense. They weren't a top-10 defense. Hell, they had just a 2-7 record against teams over .500. Still, there's something suspicious about this game. There's an ominous hue in the air. While I am still picking Philadelphia, I don't dislike people betting on the Giants. It's incredibly tough to beat the same team three times in one season — the San Francisco 49ers did that by beating the Seahawks, though — and this weekend, the Giants might prove that statement true.