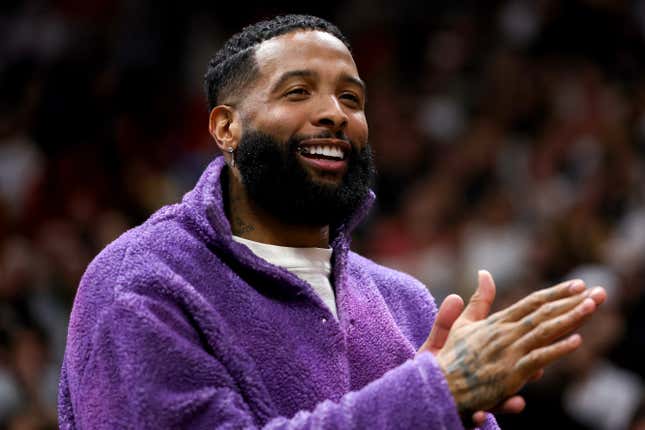 Grant Hill looks to repeat Team USA's 2004 "success"
Odell Beckham Jr. wants $15 million & Jets show interest
OBJ is said to have his sights set on a $15 million payday now, slightly less than the $20 million previously reported. The New York Jets have been linked to Beckham of late, but that won't happen before the Aaron Rodgers deal is wrapped up.
New England out on Lamar Jackson
You can officially count the Patriots out regarding landing spots for Lamar Jackson. This rumor made little sense, anyway, seeing how Bill Belichick is still running the show in New England. If Jackson wants that huge payday he's allegedly seeking, he won't find it in a bowl of New England Clam Chowder.
Carolina still not decided on No. 1 pick
Carolina still seems to be undecided on which QB they'll pick in the draft, which is just a few weeks away. The latest rumor is that new head coach Frank Reich and the front office could be at odds over Alabaman's Bryce Young being their guy. As of last week, it still had not been decided who they'd take. According to general manager Scott Fitterer, it hasn't been decided yet who they'll select. It could be Young, Ohio State's C.J. Stroud, or someone else. Most people expect the pick to be either Young or Stroud, but it doesn't look like they're letting that news "leak" anytime soon.
Gardner Minshew in play for Indianapolis Colts
Fan favorite Gardner Minshew is said to be in the mix for the Indianapolis Colts in free agency. Although Indy has the No. 4 overall pick in this year's draft, there's no guarantee that they'll immediately hand over the keys to the Cadillac to whomever the lucky rookie is they select. Some fans have been vocal in their support of Minshew getting another shot as QB1 with an NFL team. If he lands with the Colts, they could get what they've wanted.
Arizona Cardinals could release DeAndre Hopkins
In a matter of days, former All-Pro wide receiver DeAndre Hopkins has gone from being dangled in front of NFL teams as trade bait to potentially just being released by the Cardinals. That's the latest rumor around the Hopkins/Cardinals situation in Arizona, according to Albert Breer. Apparently, Hopkins' market isn't what the team thought it'd be, and they can't get back in return what they had envisioned.
During an appearance on the Greg Bedard Podcast, Breer stated that "Some teams think that Cardinals are going to cut him, they think the Cardinals will wind up cutting him." Breer said, "His market is not great right now." He further added, "There's nobody who was willing to take on Hopkins' contract and pay the Cardinals initial asking price."