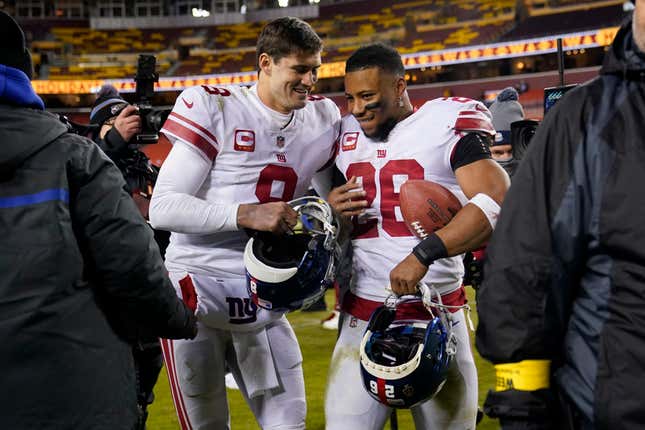 It's wild how submissive the New York Giants were during the Daniel Jones contract negotiations when you consider how steadfast the front office has been with Saquon Barkley. The star running back has until July 17 to figure out a new deal, but after that will either have to sign off on the $10.1 million franchise tag or sit out.
Which NFL player will be traded in 2022? | Agree to Disagree
Sources have said the Giants offered a deal with a per-year payout that Barkley was looking for, yet the two sides are apparently off on the amount of guaranteed money in the contract. NFL teams' recent approach of treating running backs like Amazon warehouse workers is absolutely why Joe Schoen can play bad cop despite last season's success.
"I feel like I'm (worth) more than that," Barkley said. "I feel like we finally got to the place where we're a successful team, and we're winning games, and I feel like I was a big part of that."
New York wouldn't be paying for his "mere" 1,600 yards from scrimmage or the 10 trips to the endzone; they'd be "splurging" for a guy that opponents have to gameplan around. Danny Dimes doesn't have the success, or contract, without Barkley scaring the shit out of defensive coordinators around the league.
Franchise tag better than the open market
Whether it's Dalvin Cook's exit in Minnesota, Austin Ekeler dropping his trade request for a few measly incentives, or Miles Sanders getting the biggest deal of any back this offseason (a whopping $25 million for four years), Barkley will probably have to blink first. Yes, it's complete and utter bullshit that he'll make roughly a quarter of the guy he lines up behind, but them's the breaks.
I personally would've flipped New York's priorities and made Jones earn his money under the franchise tag, yet Barkley's injury risk has to factor into the front office's mindset. When healthy, it's hard to argue that there's a better all-around back in the league.
The reason why that's important is, like Ekeler or Derrick Henry, the Giants' offense needs Barkley's big play ability as much as his stabilizing force. Ryan Tannehill's temporary resurgence happened because he had a bulldozer to hand the ball to 30 times a game. Justin Herbert doesn't put up the gaudy numbers he's had without Ekeler as his safety valve. And we'll see how the Vikings' new imbalanced attack fares without its ground game, but that's a lot of pressure to put on Kirk Cousins' shoulders.
While I largely co-sign on New York's draft, its offseason has been a mixed bag. Dexter Lawrence and Jones cleared $200 million between their two deals, while New York added depth, but not necessarily top-end talent, elsewhere.
Well the G-Men have a chance to allay some of those regression fears by bringing back their best skill guy, and they should, because a team who won nine games by one score doesn't have a wide margin for error.