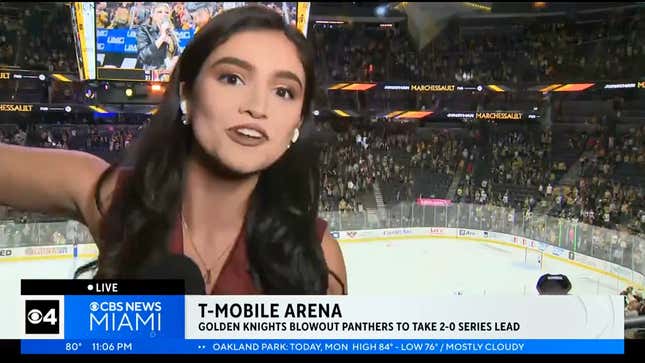 It was a manic Monday night for the Florida Panthers, as their magical run to the Stanley Cup Final, spearheaded by goaltender Sergei Bobrovsky and rising star Matthew Tkachuk, may have finally run out of pixie dust. Before the Golden Knights' efforts to stop the Panthers from winning four out of five games get underway Thursday, it's worth recognizing not everyone associated with South Florida had a terrible night. Enter CBS Miami's Samantha Rivera, who was at T-Mobile Arena covering Game 2, and delivered a Derrick Henry-style stiff arm to a rowdy Vegas fan attempting to disrupt her live shot.
Can the Florida Panthers make a comeback? | Agree to Disagree
It took place minutes after the Golden Knights' 7-2 win over the Panthers, with fans still clearly making their way to the exits when her hit occurred. Rivera began her live shot breaking down the game, but a slight hesitation in her delivery took place, only to be interrupted moments later by the unhinged Golden Knights fan, who never made it close to fully on-camera with Rivera's quick shove. It wasn't clear at first what Rivera was saying "Nope!" to before the left sleeve of a Golden Knights jersey, belonging to whatever Las Vegas jackass, tried to interrupt her work. Rivera quickly dusted off the abnormal interaction, with her looking down at her phone to start reading the script to go along with the highlights, while a still of Bobrovsky is shown, a typical practice for broadcasters.
Rivera was fine after the interaction, with the video of the beginning of her live shot approaching eight million views on Twitter as of 1 p.m. Tuesday. It is part of the job of reporters to get and disseminate the best and most timely information to their readership or viewership. Shoving off a sports fan trying to have 15 seconds of fame isn't. Kudos to Rivera for basically pretending nothing happened and continuing with her assignment instead of the shove turning into a failed live shot. Rivera's quick handling of the situation drew much praise, including from former NFL offensive lineman Geoff Schwartz, who complimented her "independent hand usage, core strength, and power." It was a quick and commendable move in a trend that's hopefully a one-off for reporters, especially female broadcasters, inside arenas.