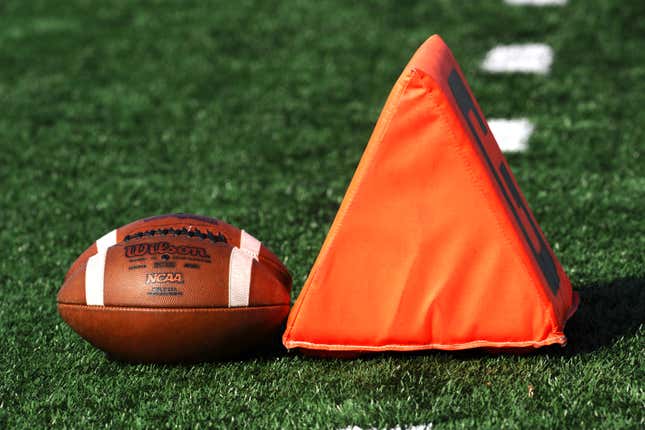 From the billion-dollar Big Ten to the "mighty" Pioneer Football League, hazing is allegedly alive and well in college football.
Should Northwestern have fired Pat Fitzgerald before the hazing scandal? | Agree to Disagree
It's been easy to get lost in the host of shenanigans that have been taking place in Evanston, Illinois. Former Northwestern Wildcats head coach Pat Fitzgerald is serving as a "volunteer coach" at the rich-kid academy that his sons attend — after he got suspended and then fired due to a failure of leadership after allegations of allowing his program to run rampant with hazing and racism for years. In his absence, his former staff were caught wearing "Cats against the World" shirts featuring his No. 51 from his playing days.
However, as we approach Week 1 of the college football season, the Toreros want you to know that Northwestern ain't the only ones.

According to a recent report from USA Today:
"Approximately half of the University of San Diego football team is facing disciplinary action just before the season's start after an investigation into alleged hazing within the program. The names of the players facing disciplinary action were not released, but the university said in a statement to USA TODAY Sports that the actions taken include players receiving indefinite game suspensions."
How does this happen inside a program that was the definition of mediocre last season after finishing 5-5, that plays in a conference that only a certain part of the country knows about, as this is the league where schools like Davidson, Butler, Marist, PResbyterian, and Valpo play football.

"But, I look up at this Northwestern hazing thing, and this story is a really big deal when you think about it. And I haven't seen very much deep discussion on major platforms about the larger issues that are at play there," Bomani Jones mentioned to Deadspin in another story, but yet, his quote also speaks to the absurdity and the lack of national outrage about these repeated incidents.

Between the combination of a former Northwestern cheerleader being "upset, but not surprised" with what's being alleged at the school after she previously filed a federal lawsuit against the school for their failure to act after she reported repeated acts of sexual harassment and assault, and how the university fired its head baseball coach days after ridding themselves of Fitzgerald due to misconduct allegations — it gave us a glimpse of how most athletic program probably operate across the country.

So, as you're enjoying the beginning of the return of major college sports over the weekend and the following months, don't be surprised if more incidents like these are uncovered. At this point, assume that everybody is dirty.