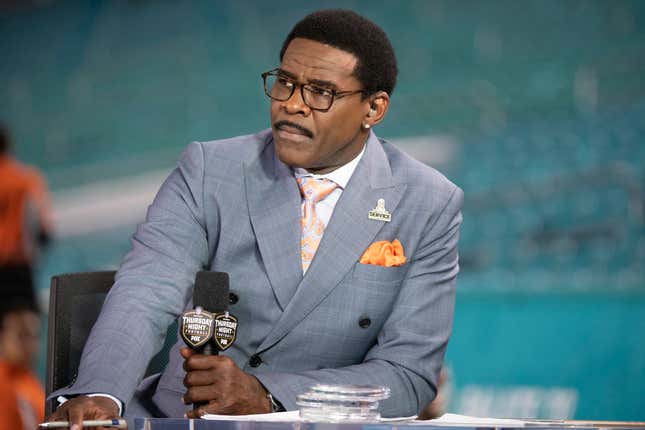 Screaming and arguing are in. Context and nuance are out. And over at FS1, the decibel levels just got louder, while the conversations just got dumber.
According to multiple reports, Skip Bayless is expected to be joined by the likes of Richard Sherman, Rachel Nichols, and Michael Irvin — who's still dealing with misconduct allegations (he's denied them) — on FS1's Undisputed when it returns to airwaves. Lil Wayne is also expected to be joining the show. Things are still up in the air about Keyshawn Johnson being added to the mix on FOX's main morning sports show. On Thursday morning, Shannon Sharpe announced that he will soon be joining Stephen A. Smith on ESPN's "First Take."

Four former athletes. One white female pseudo-reporter. And a rapper.

The days of journalists being a fixture on these shows are over. The product has been watered down. Audiences are being cheated.
Sports shows have become Twitter on TV. It's hot takes and hollering. Context and nuance have been eradicated — which is something journalists added to the conversation. The topics on these shows are full of gray areas, yet they strictly want to have black-and-white conversations when things aren't always that simple.

2016 happened and sports finally got to sit at the grown-up table, and the networks decided to minimize the people who could have grown-up conversations. After decades, sports got to a moment in which it wasn't finally viewed as the kid's department in the newsroom as sports intersected with politics and news like never before. Unfortunately, it was decided that our representation on TV was going to be led by athletes who didn't have the depth, or screaming maniacs like Bayless and Smith.

"It's not an either-or situation with journalists and former athletes. There is room for both," Rob Parker, one-half of the Odd Couple on Fox Sports with Chris Broussard, told Deadspin.
Parker is involved with a boot camp that helps current and former athletes get their start in the broadcasting and podcasting game. He's literally a member of the old, and new, guard.
"But acting like former athletes are journalists and interviewing each other is the sad part," he added. "That's where fans get the short end of the stick. You almost never hear a hard question when all players are involved."
Look around, all the "smart" sports shows are no more. The Sports Reporters is no longer on TV, Outside The Lines is all but gone, and HBO recently nixed Back on the Record with Bob Costas. It's very hard to find a sports show where conversations are had instead of people solely attempting to share catchy takes in hopes of going viral. And if anyone knows that, it's Bomani Jones. He watched as ESPN canceled his High Noon show in 2020, as HBO passed on a third season of his Game Theory last month.

Jones remembers the moment he saw the writing on the wall when it came to journalists being pushed out for athletes. He was having dinner with his former co-host Pablo S. Torre in 2019 and realized that they had one, maybe two, more contracts in which they could continue doing the work they do on television with the platform and the money they did it for due to the way things were trending. It was during that time that he became aware that somewhere along the way, the people who make decisions in sports media decided that audiences didn't want context anymore.

"What frustrates me are things like this Northwestern hazing story that came around," Jones explained to Deadspin. "I remember the Penn State scandal, and I got so tired of getting on television and talking about that doom and gloom topic because it just wasn't any fun. But, I look up at this Northwestern hazing thing, and this story is a really big deal when you think about it. And I haven't seen very much deep discussion on major platforms about the larger issues that are at play there. I feel like 10 years ago, my telephone would have been blowing up. Now when these bigger stories happen, it's CNN and MSNBC. It's not anybody related to sports."
Believe it or not, there's a method to the madness. And longtime sports journalist and author Howard Bryant has figured out why things are the way that they are. According to him, there are two formulas at work. One, you have the white guy and the Black guy yelling at each other on national TV to exploit the culture wars, which has led to the stand-in Black athlete yelling at Bayless. And two, fitting people into slots.

"The white woman is going to be the host or the reporter. The Black male is going to be an ex-player. And the white guy is either going to be a host, reporter, or ex-coach," he told Deadspin. "And what that does is check every (DEI) box that they need checked.

"I always knew that the reason that they put us (journalists) on television was because when you have a 24/7 news cycle, we were the cheapest people to fill that space with," he added. "And once the networks were willing to pay that athlete/salary to have someone else do it, someone else was going to do it."
Most viewers don't understand why this topic is so important. It's just people on TV talking about sports in the same way they do in the barbershop or at a bar, right?

Wrong.

There are real-life ramifications that affect the way they get their news.

"The reason why this is important is jobs," said Bryant. "Who gets to work? Who gets to buy houses? Who gets healthcare? Who gets to actually have a life?" And if you're a reporter competing against an ex-athlete that's already set for life financially, you've got no shot at this."
This also plays a huge part when it comes to gaining access to athletes and who gets to be an insider.

"Television visibility is what they see. It adds to your credibility, visibility, and your bottom line," said Bryant. "It's what the players respect. So when you walk into the locker room or the clubhouse and they see you, they treat you differently and treat you a little better because you're more of a name. And if that position is being taken away from the journalist, the journalist is at a complete professional and financial disadvantage, because TV pays better than the writers."
We are a few weeks from entering the peak months of the sports calendar. College football starts this weekend, and then the NFL is up next. The NBA and college basketball will soon follow, as postseason baseball is on the way. Drama is bound to happen on and off the field. What former players and coaches bring to the conversation is invaluable. But over the last few years, the people who asked the tough, and right, questions — and the ones who cover the teams/players and keep everyone on track due to their pedigree in the field and knowledge on the subjects — have been pushed out. It leaves audiences with an incomplete picture.

Adding the athlete to sports television has always been a necessary move. But, the decision to subtract the journalist has proven to be detrimental — and we're all dumber for it. Scroll through Twitter, or whatever it's called now. The nonsense on your timeline now resembles the "expertise" you see on TV. Once you've hit that low, there's no coming back from that.