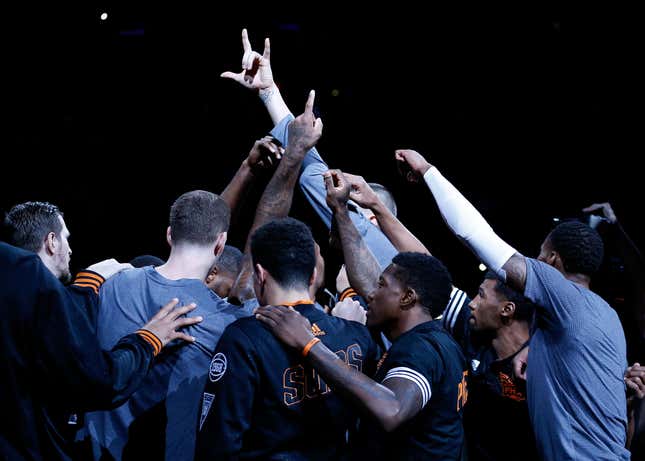 [Update]:
Hey Shannon Sharpe, the Memphis Grizzlies are the NBA's Kings of the Ring
The race to acquire Bradley Beal's services for next season got a little more interesting over the weekend as the Phoenix Suns emerged as a favorite to land the Wizards' All-Star. Nothing is set in stone, as Beal will have the final say on where he ends up due to the no-trade clause in his contract.

Bradley Beal to the rescue?
"Washington is in serious talks with two finalists – Miami and Phoenix – on a Bradley Beal trade, sources tell @TheAthletic @Stadium. The Suns have emerged as a serious threat for Beal, who holds a no-trade clause."
Shams Charania of The Athletic broke the news of Miami and Phoenix being "two finalists" in the sweepstakes for Beal, with the Suns emerging as a "serious threat." On Sunday morning, potential trade proposals from the Heat and Suns were reported. Now it seems the ball is in Beal's court, no pun intended.

"Current trade proposals from the Suns and Heat for Bradley Beal:
Suns = Deandre Ayton + salary filler or Chris Paul + Landry Shamet
Heat = Kyle Lowry, Duncan Robinson, multiple future first-round picks
Miami reportedly doesn't want to include Tyler Herro in the deal."
For Phoenix, it feels like they are determined to go the super team route in competing for and winning a title. They brought in Chris Paul a couple years ago, and that worked for a while. The Suns weren't necessarily a super team per se, but they made a run to the NBA Finals and even had a 2-0 lead over Milwaukee before losing four games in a row.
This season Phoenix went all in, trading for Kevin Durant and trading away most of their depth and continuity in the process. Now Phoenix is doubling down by potentially bringing in Beal to team up with KD and Devin Booker. The days of building a well-balanced team in the Valley of the Sun are over. Adding Beal's hefty contract to Durant and Booker's means the Suns are going all in. It'll be championship or bust if the Suns snag the former All-NBA baller.