It is fitting that the great Dock Ellis died on a Friday, which is the worst day to die. Nobody pays attention to news on Saturdays.
It makes sense, though: No one was ever quite had a monumental achievement in sports ignored so thoroughly as Dock Ellis. You really can't overstate what he did. You can have your 762 home runs, or your 38,387 points, or your 50 touchdowns in a season. This man threw a no-hitter under the influence of LSD. I mean, can you imagine? Forget this being one of baseball's greatest feats. I think it's one of Earth's.
My favorite part of the story is how why this happened in the first place. Ellis didn't realize he was pitching that day, so he figured, you know, let's do some acid.
"I was in Los Angeles, and the team was playing in San Diego , but I didn't know it. I had taken LSD..... I thought it was an off-day, that's how come I had it in me. I took the LSD at noon. At 1pm, his girlfriend and trip partner looked at the paper and said, "Dock, you're pitching today!"

"That's when it was $9.50 to fly to San Diego. She got me to the airport at 3:30. I got there at 4:30, and the game started at 6:05pm. It was a twi-night doubleheader.
The box score tells the story. Ellis walked eight guys in a not particularly powerful Padres lineup. The Pirates scored their only two runs on a Willie Stargell home run in the second inning, which must have been awesome to watch while tripping. And Ellis talked about diving out of the way of a line drive that wasn't even hit near him.
I have never taken acid, though I had a couple bizarre mushroom experiences in college. Mostly, I just giggled and became convinced the four of us in the room were the only four motherfuckers on the planet who UNDERSTOOD. I tried to write on mushrooms once, convinced I could bring back the mad wisdom psilocybin induces, only to turn on my computer the next morning to realize I'd written about 4,800 words on the healing properties of wheat toast. I cannot fathom going out in public, let alone pitching a major league baseball game. And he threw a no-hitter!
G/O Media may get a commission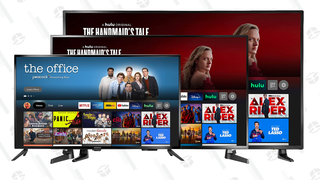 Up to 44% off
Prime Early Access - Insignia Fire TVs
The world is a crazed, nonsensical place, mostly random, confused, chaotic, numbing. We search for reason wherever we can find it. And then, out of the nether, someone throws a no-hitter on LSD, and we realize that there is so much we do not understand, so much that will always elude, so much with a strange beauty that's impossible to comprehend. Dock Ellis' achievement has been lost to the years — it's not exactly the type of thing ESPN can do a "SportsCentury" about — but it's staggering and awesome, and we mustn't ever forget it. R.I.P. Dock Ellis. We know a little bit more about our world because of you, and a lot less. Thank you
32. Detroit Lions (0-15). I'm not sure how a coach is supposed to handle the first 0-15 start in team history, but I can't imagine anyone doing much more entertaining than Rod Marinelli. If they lose Sunday — and, at this point, you have to think they will — he might just set the dais on fire in his postgame press conference. I wonder what Rod Marinelli's next job will be. By the way, how bad is it? Actual headline in the Detroit Free-Press: "Ex-Lion Joey Harrington Feels Bad For City, Team." Now that's just being cruel.
31. St. Louis Rams (2-13). So here's the most mind-blowing piece of trivia I've come across today.
Last week, a movie became the highest-grossing film of all time in England. You know, England. Place that thinks they're smarter than all us ugly Americans. Home of Shakespeare, Lord Byron, Black Adder. Do you know what movie is the highest grossing movie in the history of England? Get ready for it ...
It's Mamma Mia! I'm not bullshitting here. Mamma Mia has more money in England than any other film has ever made in England. Mamma Mia! Really!
This film features Pierce Brosnan singing!
Way to go, England.
30. Kansas City Chiefs (2-13). When you've been with a team for 20 years, like outgoing Chiefs GM Carl Peterson has been, I suppose you don't have to answer questions after your last game. I do love his jacket, though.
By the way, this Sunday is probably Herman Edwards' last game as an NFL coach. Screw Favre: We must salute true entertainment royalty on its way out that screen door.
29. Cleveland Browns (4-11). So you know how, when you use the Google search toolbar, it will fill in words it thinks you might type in next? For example, if you type in "Cleveland," you get:
Cleveland Clinic
Cleveland Browns
Cleveland newspaper
Cleveland Cavaliers
Cleveland steamer
Well, here's what you get when you type in "Braylon Edwards"
Braylon Edwards Browns
Braylon Edwards dropped passes
Braylon Edwards fantasy
Braylon Edwards contract
Braylon Edwards dropped passes 2008
Braylon Edwards penn state
Braylon Edwards costas now
Pretty rough year for Braylon, I'd have to say.
28. Oakland Raiders (4-11). Well, I know Daulerio and his fellow Iggles folks are huge Raiders fans this week, if they can even muster up the energy to care for one more week. Oh, and don't look know, but JaMarcus Russell is starting to look like an actual NFL quarterback lately.
27. Cincinnati Bengals (3-11-1). Palin watch! n case you're afraid we're going to lose touch with everyone's favorite Wasillian, worry not: You can join the social networking site Team Sarah, which is "a coalition of women dedicated to advancing the values that Sarah Palin represents in the political process." Don't worry, boys: "Men welcome too!" Here's my favorite group on the site: Conservative Pagans For Sarah. To quote:
A group for those of us who may not be of the Judeo Christian persuasion but who otherwise cherish the conservative approach to life.
Whew! There are some left!
26. Jacksonville Jaguars (5-10). You know, I'd really like to get ahead in the world of marketing. I think that's the perfect field to go into right now. But I want to be a cool marketer, like, down with what the hepcats are into. I've found just the right company.
Sign up now! Not surprisingly, their graphic arts department comes highly recommended.
25. Seattle Seahawks (4-11). I'll be bitching about the Buzzsaw a few entries down, but, at this point, it's looking extremely possible that Seattle will win in Glendale next weekend, and we'll enter the playoffs at 8-8. We still get to host whoever, though! Though if Seattle runs up a 28-0 halftime lead — which would actually be the third time the Buzzsaw have trailed 28-0 at halftime this season — I'm turning the game off and growing a mustache.
24. Green Bay Packers (5-10). Nothing much too much to gingerly poke at in the Green Bay Press Gazette this week, save for a big huge controversial roundabout they're building at a busy intersection. A photo of the intersection should give you a pretty good idea what it's like to live in Green Bay.
23. San Francisco 49ers (6-9). Looks like Mike Singletary is going to be back next year, much to the delight of David Letterman and his writing staff. I enjoyed Late Night's Singletary riff because I'm not sure anyone will get it outside of Deadspin readers and San Francisco sports fans. (And I'm not sure all of them will get it either.) In a world where Jay Leno is going to be in prime time five nights a week, anytime late night does something obscure and strange, I'll take it.
22. Buffalo Bills (7-8). While we're talking late night, boy, that Jimmy Fallon show sure is shaping up to be outstanding, isn't it? (I enjoy Videogum's nickname for him: Bag Of Hair. In case you were looking for an intellectual justification for your deep, ravenous hatred for Jimmy Fallon, The New Republic has your back.
What is funny about the Fallon Effect, however, is that he simply imported the talents of former "SNL" colleague Fred Armisen (the show's new Obama) by having him on as a guest and letting him mock the whole concept of talk-show interviews. If he's still the Jimmy we know him to be, it's inevitable that he'll also tap the talents of the truly successful Tina Fey. More bolstering. Just like in his "SNL" days, Fallon is the baby of the family, only required to be cute and always eager for help. Can you think of another adult who gets paid for so little?
It's nice that our generation now has its Chevy Chase, a "comedian" everyone can bond together in mutual antipathy toward. Though Chevy Chase at least was once funny. (Note: I find this point arguable, but it's worth noting that some people think so.)
21. Houston Texans (7-8). Well, that'll be all for that fun little run. So, rather than dissect a team that, other than the Titans win, has been entirely unremarkable all season, I'm gonna talk about Thundercats! They're actually making Thundercats into a film next year, and it's gonna be pretty awful. How awful? So awful someone has given it a brilliant fake trailer.

20. The Buzzsaw That Is The Arizona Cardinals (8-7). Beggars, choose, all that. I've been so concerned all season that people would think the Buzzsaw won their division — their division! The Buzzsaw won the division! — only because San Francisco, Seattle and St. Louis were so bad. Because of that, I was distracted from the fact that they were, in fact, even worse than I thought. The Patriots loss was so bad that Daulerio and I turned off the game at halftime and played Tiger Woods golf. They kind of deserve to be 8-8 going into the playoffs now, methinks. That said, I'll still be there on January 3 or January 4, screaming on the Buzzsaw at the Pink Taco, hopefully against Atlanta, a team I'm underrating even to this second. These only come along every 33 years, you know. Particularly because we're probably gonna have to watch Leinart flop around the field all year next year, back to square uno.
19. New Orleans Saints (8-7). Are you ready for the rest of the country to have an economy similar to New Orleans'? 2009 is going to be awesome. One possibility: Rather than laying off a bunch of people, companies might go to four-day workweeks, or stop paying you for vacation. Some are even trying to spin this as a positive.
The recession, obviously, is not a good thing. But I think it might be a good thing if when we pull out of it, we switch to a different equilibrium in which people work somewhat less and earn somewhat less. There's a lot of evidence to suggest it would make people happier, and some good reason to think it would be better for the environment.
Well, I suppose. But that makes us sound awfully French, if you ask me.
18. New York Jets (9-6). Listen up, everybody: Sunday is going to be Brett Favre's last game. It's now pretty clear, isn't it? Even this guy can't pretend anymore. They should have kept Pennington, they're all done, can we move on now? If anyone from ESPN is reading, let's make this clear: No one will care about Brett Favre this offseason. Do not make Rachel Nichols follow him around again. He's going to retire, and it doesn't matter. Let's get back to our lives, please.
17. San Diego Chargers (7-8). Are you freaking kidding? Is it possible Norv Turner's going to make the playoffs again? A question: If the Buzzsaw would have flopped one week earlier, or lost that MNF game to San Francisco, or just been one game up on the Seahawks, would they have had a chance at the flex game? I don't think the Buzzsaw is ever, ever going to get flexed.
16. Denver Broncos (8-7). In honor of the Broncos' chokejob down the stretch, here are a few selections from Roger Ebert's favorite putdowns of movies.
Eventually the secret of Those, etc., is revealed. To call it an anticlimax would be an insult not only to climaxes but to prefixes. It's a crummy secret, about one step up the ladder of narrative originality from It Was All a Dream. It's so witless, in fact, that when we do discover the secret, we want to rewind the film so we don't know the secret anymore. And then keep on rewinding, and rewinding, until we're back at the beginning, and can get up from our seats and walk backwards out of the theater and go down the up escalator and watch the money spring from the cash register into our pockets. (The Village)

I am informed that 5,000 cockroaches were used in the filming of "Joe's Apartment." That depresses me, but not as much as the news that none of them were harmed during the production.

I stopped taking notes on my Palm Pilot and started playing the little chess game. (Masterminds)
15. Washington Redskins (8-7). Proving once again that Barack Obama is better than you at everything:
I voted for the guy, and I think he can be a great President ... but I hope he gains 50 pounds in office. If he stops smoking, he probably will.
14. Philadelphia Eagles (8-6-1). While watching the Eagles game Sunday with the aforementioned Daulerio, I looked over at him at the beginning of the fourth quarter.
Me: "You nervous? Big game."
Daulerio: "Actually, I'm just trying to stay awake."
This is what happens when your team runs its offense with the urgency of a Kansan operating the subway turnstiles, and you just won the World Series two months ago.
13. Tampa Bay Buccaneers (9-6). If the Giants make the Super Bowl this year, I'll be heading down to Tampa for the game. I've been in Tampa once, and I was surprised that certain parts are prettier than I realized. I thought Florida was pretty much just a wasteland, you know? Oh, and don't deny it, Florida. What, are you gonna cry now? I'll give you something to cry about.
12. Chicago Bears (9-6). Say all you want about the sad spectacle that is the Buzzsaw as the No. 4 seed, but realize the No. 3 seed in the NFC is going to be quarterbacked by either Tavaris Jackson or Kyle Orton.
11. Minnesota Vikings (9-6). What happens when you're brilliant and spend your days watching nothing but CNBC? I present the great Moe Tkacik's Tumblr. These Tumblrs, they're all the rage.
10. Dallas Cowboys (9-6). An honest question: Why in the world would anyone want to play for the Cowboys? I'm not talking about the super expensive guys that only the Cowboys can figure out how to pay. I mean the regular guys, the rank-and-files, the ones who just want to play football, win some games and go home. How could Dallas possibly be worth the trouble? I'd want to get my ass to Tennessee, where I can go tackle people in peace.
9. Miami Dolphins (10-5). You know what? After all this talk about the Jets' reckoning against Chad Pennington this week, it wouldn't shock me if the Dolphins lay their first egg since they discovered the wildcat formation back in September. Unless the Jets just decided they're dead and take a nap. By the way, if the Dolphins take the division, I assume we're just a couple weeks away from Mike Wallace deciding to interview him again.
8, Atlanta Falcons (10-5). I lied up above: I'll actually be missing most of the games next week for my yearly trip to Assembly Hall in Champaign to watch my beloved Illini trounce Eastern Michigan. Actually, I probably shouldn't say that. Last year's trip ended with a loss to freaking Miami of Ohio. At least they don't play the Tennessee State Agricultural and Industrial State Normal School for Negroes again this year. Alex Legion forever! Take that, Kige!
7. Baltimore Ravens (10-5). It's looking quite likely that we're gonna have two rookie starting quarterbacks in the playoffs this year. Only two rookie QBs have ever won a playoff game. Ben Roethlisberger and ... the immortal Shaun King. (Who, I remind, was one incredibly Ricky Proehl play from leading the Buccaneers to the Super Bowl in 2000.)
6. New England Patriots (10-5). Boy, oh boy, are Boston fans going to be pleasant if they finish 11-5 and miss the playoffs, particularly if the Buzzsaw, who they just beat 47-to-freaking-7, finish 8-8 and host a game. It'll be a joy.
5. Carolina Panthers (11-4). Where am I really glad I'm not going to be in the next few days? Macy's
Remember when we thought online commerce was going to progress to the point that most Web purchases would have same day delivery? Stupid economy. Now we have to leave our houses.
4. Indianapolis Colts (11-4). Last week, I wrote: "At least we won't have to watch them play in that soulless new stadium. Even people from Indianapolis hate that building, which is no small feat; I think that's the only building in Indianapolis that holds more than 78 people." A commenter called me out on this, and they might have had a point: I only know three people from Indianapolis, and two of them hate it. (The other one is smart enough not to watch sports.) So I apologize: I did not survey the entire city. Fortunately for me, the commenter was from Facebook, which meant everyone just destroyed him. Poor guy.
3. Pittsburgh Steelers (11-4). OK, OK: So some people hate the Steelers, particularly if they're from Seattle or are named LenDale White. I still think these guys are winning the AFC.
2. New York Giants (12-3). All right, I know it's the holidays and no one can stay up late on Sunday, but gee whiz, that game Sunday was terrific. I'm not sure there has been a better game this year. Also, something I learned from my two weeks hanging around the Giants: Tom Coughlin is shorter than you think he is. That surprised me. I can't tell what that says about him, or me for noticing.
1. Tennessee Titans (13-2). Congratulations to Tennessee, particularly if Kerry Collins falls off the wagon in the next two weeks and they have to start a googly-eyed Vince Young in the first round of the playoffs.
But mostly, congratulations to all of you, for making it this long. I'm always surprised and impressed. Happy Holidays out there. Oh, and if a fat man tries to break into your house later this week, it's legal to blow his face off with a shotgun. Thank you lax home invasion laws! Be safe out there, kids.