We've mentioned how the Jerry Sandusky verdict is only the beginning for Penn State. There are still the ongoing investigations by the feds and by former FBI director Louis Freeh—hired by the Board of Trustees to do an independent inquiry—that could implicate what role, if any, university officials had in enabling Sandusky by failing to report him to the cops years ago.
Sara Ganim of the Patriot-News of Harrisburg (Pa.) has noted that the PSU athletic department has been a focus of the Freeh investigation. Much has also been written about the email in which former PSU president Graham Spanier and former vice president for business and finance Gary Schultz agreed it would be "humane" not to inform the police about Sandusky, plus the so-called "secret file" Schultz is said to have kept on the now-convicted pedophile. (Schultz and on-leave athletic director Tim Curley have been charged with perjury and failure to report abuse; Spanier has not been charged, but there are indications that he might be).
Now, a new report in the Chronicle of Higher Education sheds some light on just where that athletic department investigation may be headed. The article, which is based on conversations with nine people who have been interviewed by Freeh's group, is behind a pay wall, but get a load of this:
The Freeh Group has also zeroed in on how those and other top leaders dealt with a mix of problems in the football program. Investigators have asked whether Mr. Spanier or Wendell V. Courtney, Penn State's former general counsel, interfered with the university's judicial processes to take care of athletes involved in disciplinary cases.

One former top administrator, whom Mr. Freeh's colleagues interviewed for four hours, provided the investigators with e-mails written by Mr. Spanier and Mr. Courtney. The Chronicle obtained those e-mails, which describe steps the two men took to protect players.
G/O Media may get a commission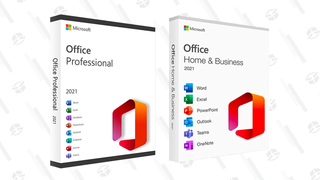 89% off
Microsoft Office Professional 2021 Lifetime License
Oddly, the Chronicle story does not provide any specifics about what might have been in those emails. The only additional details are based on those interviews the newspaper did:
Two other people interviewed by Mr. Freeh's staff—one several times—were asked about e-mails in which the president, the athletic director, and faculty leaders debated the proper oversight of athletics. Investigators appeared to find it problematic that some of Penn State's top officials had resisted adopting certain practices that other athletic departments adhere to, including establishing a separate campus athletic board.

The university's NCAA compliance efforts also came into question. Until recently, Penn State had just three compliance officers. Some Big Ten programs have more than three times as many. In a preliminary report, Mr. Freeh's staff recommended increasing the compliance staff, among other measures. Shortly thereafter, Penn State posted a new athletics-compliance position.

All of this runs counter to the notion that many people had before November, when Penn State was often held up as a national leader in having stringent controls over sports.
That also conflicts with a comment made by one university professor who's a former faculty athletics representative. The professor described Spanier as having been directly involved in making sure Penn State coaches were playing by the rules:
"Graham used to always say, 'If you make a minor mistake, self-report it and we can move on. But if you intentionally break a major rule and try to get away with it, you will be fired,' " Mr. Kretchmar said. "Very few universities, at least based on stories I've heard from my colleagues, have presidents who were hands-on like that and top-down saying, 'We're going to do it the right way.'"
The Chronicle says Freeh's report will likely be released in August.
h/t to Noir Juggling
Photo via AP.