According to TMZ, former Kings center Mike Richards was stopped at the Canadian border two weeks ago and "questioned about oxycodone pills," but has not been charged with any crime. (Update: According to the Winnipeg Sun, Richards was arrested at the border.) Rumors and allegations of substance abuse have dogged Richards for years, such as when he was reportedly one of two Flyers not to take part in a team sobriety pledge, or when Alex Burrows taunted him about cocaine use.
The Kings terminated Richards's contract yesterday, a day after placing him on unconditional waivers. The cryptic scuttlebutt from a number of reporters was that Richards's release was caused directly by an "incident" at the border, and this would seem to qualify.

Without knowing more—How many pills did Richard have on him? Did he have a prescription for them?—it is difficult to tell whether the Kings were within their rights to terminate his contract. A source told the Los Angeles Times that the Kings are likely basing the termination on the morals clause, in which a player agrees "to conduct himself on and off the rink according to the highest standards of honesty, morality, fair play and sportsmanship, and to refrain from conduct detrimental to the best interest of the Club, the League or professional hockey generally."
Wrapped up in all of this is the fact that the underperforming Richards was under contract for five more years and $22 million. The Kings were already considering buying his contract out, but by terminating it instead they avoid paying two-thirds of his salary, which amounts to a savings of $14.7 million. They also face a much smaller salary cap hit—the cap recapture penalty—with a termination as opposed to a buyout.
All of which raises a question, of course: did the Kings terminate Richards's contract over a relatively minor offense that he has yet to be charged for just to get out of paying him? After all, they didn't terminate Jarret Stoll's contract after he was arrested for possession of ecstasy and coke, or Slava Voynov's contract after he was arrested for domestic violence. (Update: As a couple of commenters have pointed out, the Kings are unable to terminate Voynov's contract because he is suspended by the NHL, and Stoll's contract is expiring.)
G/O Media may get a commission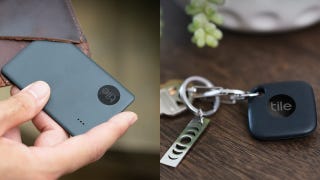 Up to 35% off
Tile Item Trackers
The NHLPA has yet to weigh-in on Richards's contract termination, except to say that they are reviewing the situation. But unless it is revealed that Richards is an out-and-out drug smuggler or something, you can bet they will appeal.
[TMZ]
Do you know more about what happened? Let us know: tips@deadspin.com.
---
E-mail or gchat the author: kevin.draper@deadspin.com | PGP key + fingerprint | Photo via AP