The NBA offseason is the best and wildest of all sports offseasons, and by a long shot. Even the deals that don't get made are endlessly fascinating. To wit: In some parallel universe, a three-team draft-night trade got done that sent Paul George to Cleveland and Kevin Love to Denver.

The trade talks were first reported by ESPN and confirmed by Cleveland.com, and they provide the outlines of a deal that would have seriously improved the Cavs, who probably do need a major splash in order to challenge the Warriors next spring. George, who said he wants out of Indiana after his contract is up next year, is the most sought-after trade target in the NBA right now, and would certainly represent an upgrade from Love on defense. The Pacers, rather than lose George for nothing, will likely move him this summer or at the trade deadline, and they want young players in order to undergo a full rebuild. The Cavs don't have that, so they reportedly brought in the Nuggets.
It's unclear who would've been leaving Denver in this deal, but ESPN reports that the Nuggets have let it be known that Emmanuel Mudiay, Kenneth Faried, and Wilson Chandler are available, while Nikola Jokic and Jamal Murray are untouchable.
Here's another wrinkle:
G/O Media may get a commission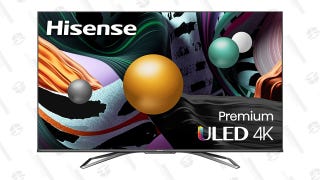 Save $350
Hisense ULED 65" Android 4K HDR Smart TV
It's unknown how advanced these trade talks were. ESPN says they were "serious"; Cleveland.com says they were "nothing serious." But Nuggets president of basketball operations Tim Connelly did cryptically reference one multi-team deal that was very close:
"We were very far along in one," Connelly said after the draft. "We thought it was done. At the 11th hour one of the teams involved had a change of heart. While we had countless conversations, there was one in particular we thought was going to take place. It's never a deal until you have a handshake and a deal, and we never got to that point."
George is precisely the type of player the Cavaliers need if they're going to have any chance in yet another rematch with Golden State. The Cavs have enough scoring; their defense is suspect. A lineup featuring LeBron James, George, Tristan Thompson, and either Iman Shumpert or J.R. Smith (who played some surprisingly excellent defense this postseason) might actually give the Warriors a challenge, or at least slow them down to mortal levels.
Another option, given that this Paul George deal has apparently fallen through (for now) would be to go get a veteran, and indeed the Cavs are reportedly targeting Carmelo Anthony or Dwyane Wade if their respective teams buy them out this summer. Neither of those signings would do much for Cleveland defensively, but they'd represent general upgrades if the Cavs were able to nab one without giving up anything.
Of course, all of this might be a little smoother if the Cavaliers had a GM.