The Golden State Warriors have been champions for one week, and the rest of the NBA is already scrambling to get in position to beat them next year. The Cavs have spent the past few days on a nonsensical roller coaster, flirting with soon-to-be ex-Pacer Paul George then self-immolating and stunting any progress they'd made on that front by firing GM David Griffin, because Dan Gilbert is a gibbering moron who refuses to cede an inch of power. George seems to be somewhat available, although the Cavs have neither the assets nor the phone-answering capacity to make that trade at the moment.

Last night, a newer and even better name popped up: Jimmy Butler.
ESPN's Marc Stein reported last night that the Cavs are looking for a way to trade for the semi-disgruntled Bulls superstar, and that they might need a third team to make it happen. Cleveland isn't the only interested party. Minnesota reportedly wants in, as does Phoenix. Boston is also never that far away from Jimmy Butler rumors, and depending whose reporting you read, they have been more or less on the cusp of landing him for about six months. Everyone wants Jimmy Butler, and it will likely take a very serious package to pry him from the Bulls. It will be worth it.
A player of Butler's caliber should not be available, but because the Bulls are run by incompetent doofuses and the team's chemistry is acidic enough to burn through the hull of an ocean liner, he's somewhat on the market. The Celtics reportedly turned down the chance to swap Jae Crowder, a pair of draft picks, and one of Marcus Smart or Avery Bradley for Butler at the trade deadline, and one imagines it would take just as much or more to get him out of Chicago with so many suitors at the moment.
Ceding high draft picks is always a risk, particularly in a draft such as this, but any team in the NBA would be made better by Butler's presence. The Bulls were a ghoulish mess of swollen egos and rotten mediocrity last season, but Butler was one of the very best players in the NBA. Surrounded by the weakest assemblage of big men he's played alongside in his career as well as an altogether embarrassing point guard platoon, Butler had a career year.
G/O Media may get a commission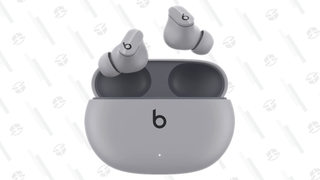 Butler's always been a two-way talent, but his efficiency blossomed across the board. He took on a larger share of possessions than he ever has before and managed to turn the ball over at the lowest rate of his career, average more assists than ever before, and snag rebounds at a career-high clip. His shooting took a dip, but if you watched him operate, you saw a confident superstar who could score from most spots on the floor, capable of playing with his back to the basket or in the pick-and-roll. Although he's not quite a knock-down shooter, he shoots nine free throws a game and he's dangerous in any offensive situation, as Synergy Sports rates him in the 86th percentile or better in spotting up, rolling out of the pick-and-roll, cutting to the hoop, and posting up.
This versatility, combined with his enviable defensive capabilities and range, makes him a decent fit on most rosters, especially since Butler has spent his career switching between the shooting guard and small forward spots depending on the composition of the Bulls roster at any given time. If he were to play alongside LeBron James in Cleveland, he wouldn't spread the floor like Kevin Love, but he could handle the ball, run the pick-and-roll with James, and generally broaden out an offense that gets one-dimensional at times. It's hard to see any transaction loosening the Warriors' grip on the NBA title, although Butler at least poses more problems than Love and would further free up LeBron James from doing the dirty work.
Add Butler to Boston's core and suddenly they look like a more credible threat to Cleveland's dominance in the Eastern Conference. Butler can't stop LeBron, but he'd do a hell of a lot better job than Crowder and Brown did in Boston's Eastern Conference Finals humiliation. Besides Avery Bradley's inexplicable shooting flurry, no Celtic could find any sort of consistent scoring form against the Cavs. Isaiah Thomas looked like a husk of himself, shooting just 28 percent, and Al Horford was never a big-time, every-play scorer. Butler already is, and demands the sort of attention that no other Celtic could against the Cavs.
The Celtics have a mound of picks and Butler is the sort of player that would justify trading them. It would be harder for the Cavs to make a trade happen, but if for some reason the Bulls truly are prepared to give up on Butler, Cleveland too should make moves. Players like Butler rarely become available, and he's good enough to shift the balance of power in the NBA.