It's finally here. Sunday football. Wednesday was cool and all, but this is the day that really counts. For the remainder of the day you will watch football and only football and it will be awesome. Until your team, obviously playing a 1 P.M. game, loses and ruins the entire day for you. But you've got a whole three hours before that happens, so let's get started with a guide to the first round of games.
Buffalo Bills at New York Jets (CBS): Marv Albert and Rich Gannon will call this one. That tells you all you need to know about the state of the media darling New York Jets. This game is beneath even the usual Gumbel-Dierdorf J.V. squad. God, Dierdorf is a mess. Anyway, there's really only one way this game can play out. A low scoring, close game late until Sanchez throws a soul-crusher of an interception and Tebow wins the game as time expires with a goal line rush. Might as well get the Tebow stuff out of the way early.
New England at Tennessee (CBS): I hate to harp on the announcers, but, why in the world did CBS send their A-team of Nantz and Simms to this game? I mean, other than they have the most experience verbally fellating the Patriots. This is totally going to be one of those one-sided games that makes you think for a nanosecond "I was excited about this?"
Indianapolis at Chicago (CBS): Andrew Luck, whose voice sounds as though it is perpetually altered to protect his identity, gets his first start as a professional. Who cares. We've got Jay Cutler and Brandon Marshall on the other side. A guy who looks like he could not give the slightest of fucks about anything throwing to a guy who could internally combust at the drop of a hat. This is where Nantz and Simms need to be.
G/O Media may get a commission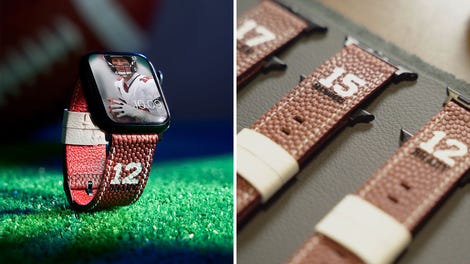 Official NFL PRODUCTS
Official NFL Apple Watch Bands
Philadelphia at Cleveland (FOX): Remember when Colt McCoy was the Browns starting quarterback? Dark days, Dawg Pound, dark days. Luckily they drafted Brandon Weeden who will be ready to retire by the time he figures the league out and running back Trent Richardson who underwent knee surgery exactly one month ago. Said Richardson, "I'm very confident in my knee. I try to be 110 percent in whatever I do. Coach is going to put me in [not Cleveland]."
Atlanta at Kansas City (FOX): You know how there are teams that you're pretty sure the league could just kick out and barely anyone would care? That's Atlanta. Sure, they have fans, but who cares right? Matt Ryan is the Mark Teixeira of football, pretty good at what he does but he's basically like if the Chester A. Arthur animatronic broke out of Disney's Hall of Presidents and started playing sports. This game needs a shitload of Todd Haley and it's such a bummer he's not around anymore. Instead, Romeo Crennel stays on to watch Matt Cassel shockingly continue to not live up to his performance as New England's backup while he waits for Jamaal Charles to turn into a fine grist.
Miami at Houston (CBS): I'm a Jets fan. If this was unclear, consider it made clear. Nothing warms my heart more than a terrible, terrible Miami Dolphins team. The Patriots, sure, are the hated team du juor, but that's only because Miami is The Bad News Bears of the NFL. If the Dolphins were worth getting worked up about—bah, who cares, it's the Dolphins. This game will get the score and stats but no video treatment on SportsCenter.
St. Louis at Detroit (FOX): Pepe Le Pew, football coach, begins his reign in St. Louis along with offensive coordinator Brian Schottenheimer. So get ready for wildly unnecessary pre-snap motion and a shitload of fade passes. It's gonna be sweet. Detroit will probably average 65 points this year and Jim Schwartz will continue to solidify his position as Guy Most Likely To Purposely Spit On Your Grandmother. It also looks like Shannon Eastin will work this game as a line judge, becoming the first woman to work an NFL game. Look for Jim Schwartz to get a couple 15 yard penalties for referring to her as "Sweetheart."
Jacksonville at Minnesota (CBS): [Text interesting to Jacksonville and Minnesota fans only goes here]
Washington at New Orleans (FOX): Ugh. Another redemption story for the Saints. Listen, I love it when someone makes Goodell look stupid as much as the next guy, but the narrative out of New Orleans every single year now is 'overcoming adversity" and what the city of New Orleans deserves. We get it. Parts of the city were built below sea level and it gets fucked up by hurricanes. If I have to hear Drew Brees talk about it and point out how the Saints' adversity pales in comparison to the people who live in New Orleans I am going to throw up. Anyway, people seem excited about Robert Griffin III, so that should be fun for D.C.
What You're Watching
Via The 506. CBS:
Fox: