This week's Deadcast guest is Selena Roberts, the author of A-Rod and columnist for SI. Did you know Selena is the daughter of hoboes? It's true!
Jokic? Embiid? The NBA MVP is obvious... right? | Keep it a Buck(et)
Okay, not quite. Her parents were hippie drifters who occasionally did some light hoboing. But that's good enough for me. Selena and I also talk about the criticism her book has received, particularly from Murray Chass and Jason Whitlock. Roberts believes that Whitlock's criticism of her as a "hardcore feminist" could be a not-so-subtle dig at her homosexuality.
G/O Media may get a commission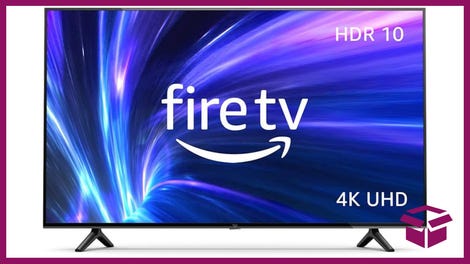 42% Off
Amazon Fire TV 50" 4K Smart TV
As for Chass, Roberts defends her use of anonymous sources. She also defends what she called "the omniscient voice" she uses in the book, which states facts about A-Rod without attribution (Example from page 145: "Alex was believed to have moved from Deca to Primo (two types of steroids) during the spring"), though she says she probably could have been more specific and mentioned that various sources corroborated the information. And, as a paragon of journalistic virtue myself, I agree. FIX YO SOURCES.
She also recounts the time, during her tenure at the NYT, when Chass sent her a long-winded email castigating her for sitting in his chair. Because he's a cranky old sack of shit, you see.
I also ask Roberts about the voluminous criticism she continues to get from Duke lacrosse supporters. She argues it's her job as a columnist to take hard stances, and she accepts any criticism she gets in return. She also says she wasn't the only one to criticize the Duke program right from the outset (she's right), but that people have made her the face of the enemy.
Finally, we get into her "ban" from ESPN, and then I subject Selena to a round of stupid questions. All in all, a decent way to spend 45 minutes in your car. In the meantime, since I read the whole damn book for this interview, here are some choice quotes and factoids from "A-Rod":
Page 87 – Former Mariner teammate: "He'd put one of those self-help books in front of his locker. He wanted us to see it: Look, I'm improving myself."
Page 95 – "Alex can't stand fat people," one friend says, "he really can't be around them." (Better not introduce him to KOGOD, then.)
Page 127 – "A clubhouse attendant was required to place toothpaste on Alex's toothbrush after every game." (See, this is the last thing I'd make a lackey do. There's no easier way for your toothbrush to end up inside someone's asshole than by making them paste it for you.)
Page 142 – "He came to me after the wedding and asked, 'What do married people do?" a former teammate recalls." (Alex, I have no fucking idea.)
Page 165 – A-Rod's pickup line to women out clubbing: "Who's hotter: me or Derek Jeter?" (Jeter! Definitely!)
Page 172 – "Alex was known to venture into Iniquity – a swinger's club in Dallas."
Page 173 - "He would use corny pickup lines on a (teammate's) wife."
Page 185 – "Some (Yankee) teammates began to privately call him Bitch Tits"
Page 196 – "He is so infatuated with (Tom) Brady that buddies would joke about their bromance" (GAH!)
Finally, A-Rod was known to recite self-help haikus to himself. I found some online. Here's one:
Analyzing my
want, I found it was wanting.
But not wanting me.
Well, that's just fucking retarded.
This week's podcast is available for your listening pleasure right here. You can also find the new Deadcast in the iTunes Music Store here. Special thanks to Liberated Syndication for hosting us. Got an email you want read over the air? Send it to me here. Now sit back, relax, and listen as I try and get Selena to make fun of Mitch Albom's ears.
PHOTO: NYMag.com