Last night, Ryan Callahan and Sidney Crosby were jostling for position. Crosby appeared to kick Callahan's skate out from under him. That's called a slew foot, and it's illegal. Callahan was called for interference.
Immediately after the period, Brandon Dubinsky said what most non-Pittsburgh fans believe: that Crosby gets special treatment from the refs and the NHL because of his star power.
"That's a dirty play," Rangers center Brandon Dubinsky said of Crosby in a broadcast interview during the first intermission. "He's a guy who tries to get away with a lot of that stuff. He complains a lot." After the game, Dubinsky was still seething, but tried to bite his tongue. "I don't want to sit here and talk about (Crosby) any more. It's awful."
It's kind of important to put this in context: when the Rangers and Penguins played a couple of weeks ago, PIttsburgh had a 6-to-nothing advantage in power plays. That's unheard of. Rangers coach John Tortorella was vocal about his displeasure, and contacted the league about it. In Colie Campbell's NHL, everyone assumed that meant the Rangers would get the benefit of the whistles last night. It didn't happen.
Crosby, after last night's game:
How many penalty minutes do I have this year, if I'm that dirty?," said Crosby, who has 15 penalty minutes this season. "I mean, please. Show me all those dirty plays. It's a battle and he falls. I think Dubi has done his fair share of things out there that are questionable. I guess he's talking again. But I'm not surprised."
G/O Media may get a commission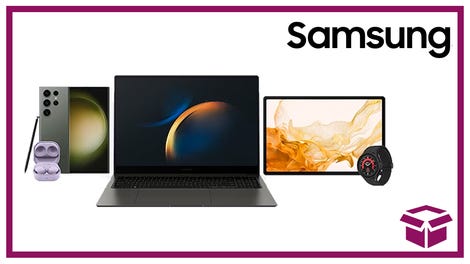 24 hour deals
Discover Samsung - Daily Deal
It's perhaps not the wisest course of action to bring up your dearth of penalty minutes when the slam on you has always been that you get away with murder. (Or testicle-pounding from behind.) But it does raise the question: does Crosby get away with things that other players, even stars like Alexander Ovechkin, can't?
Probably, in the sense that he's one of the league's biggest names. In any sport the superstars are going to get the benefit of the doubt on calls, because they're assumed to be more talented, and opposing players are always trying to take them down or goad them into being sent off for a couple minutes. The exception being if the star player already has a reputation for playing dirty, like Ovechkin. Ovechkin's not dirty per se, but he is aggressive, and being bigger and faster than Crosby, he's bound to draw more attention.
Was Crosby's slew foot last night a dirty play? Probably, since the Pittsburgh TV broadcast never mentioned it and never showed a replay. (Crosby also got whistled on a questionable trip of Sean Avery later in the game. When Avery's getting the benefit of the doubt, you know it's a makeup call.) But it's the kind of play that probably happens multiple times over the course of an average game and goes uncalled, and, paradoxically, is only a big deal in this case because of Crosby's star power.