The 76ers unveiled their new uniforms last night, and they're clean and lovely. Other than the Fierce Ben Franklin secondary logo, there's really not much to complain about. This is a team that's going to look good while it's being embarrassingly bad.
The Sixers have opted to go with "PHILA" across the chests of both the road and home jerseys. It's not just an appeal to city pride; it's a throwback to the late-'60s Wilt Chamberlain-era uniforms.
The design, consistent across the three uniforms, is so simple and obvious it becomes even more of a head-shaker that the Clippers, working with the same colors, will suit up in what look like rejected summer-league jerseys. Each primary color is accented by piping of the other two, with the primary logo appearing on the leg and the secondary, 13-star logo on the waist.
G/O Media may get a commission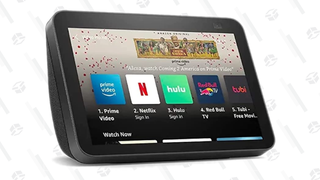 And though you can't see it here (there are some better views at the Sixers' site), the jerseys and shorts have stars running down the side—seven on the player's right, and six on the left. 76ers, get it? Maybe slightly too clever, but the stars look good, and make sense to a team whose identity trades on overt patriotism.
There is one little easter egg. Sewed onto the hem of the jerseys is a small panel reading "Phila Tough." It'll be tucked into the shorts, so you'll never see it. But it's upside down, so the players will see it when they go to tuck their jerseys in.