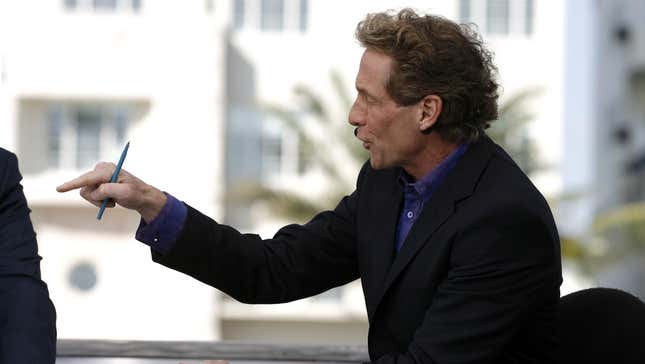 Skip Bayless is viewed as the godfather of this "embrace debate" culture that has consumed sports media over the past 15 years. The FS1 Undisputed host has been around to lend his disconcerting commentary style to some of the most significant events in sports for the better part of five decades. However, Bayless' strong hold over the industry seems to be loosening. According to some sources, the new direction Bayless has decided to go with the show following
Shannon Sharpe's departure isn't too encouraging to those "in charge" at FS1.
The show has been on hiatus all summer following Sharpe's final shows during the NBA Finals. Bayless is set to return with an all-new cast, including five co-hosts in a copy/paste format. It's pretty much identical to what Stephen A. Smith has done with First Take on ESPN since his on-air partnership with Max Kellerman dissolved in 2021.
Bayless took to Twitter Monday morning boasting about the new additions to Undisputed, flaunting some recognizable NFL names joining him each week. Richard Sherman had already been announced officially, but it had been rumored that Bayless was looking at either Michael Irvin or Keyshawn Johnson to join his new stable. Bayless confirmed that both men would be on the show this fall to debate him. Rachel Nichols and Lil Wayne will also be joining Bayless on the show. Yes, that Lil Wayne. There was also a rumor floating around about an NBA personality joining the show, but we have yet to see that unfold.
Skip's winning formula?
That really is the question. Is this lineup enough to win and keep people coming back every morning? Wiley spoke on it recently and said this new panel of hosts Skip has chosen isn't entirely backed by the higher-ups at the network. Wiley worked at FS1 on Speak For Yourself before leaving last summer for other opportunities.
Undisputed has been the flagship show of FS1 since Bayless jumped ship from ESPN in 2016. Over the nearly seven years that followed, Bayless and Sharpe's show became one of the nationwide heavyweights in morning debate shows. During that time, Shape's profile and influence grew to a level even beyond what he achieved on the football field. Sharpe often talks about meeting people who don't realize he was once a pretty damn good player in the NFL.
With all this news swirling around and sports debate fans awaiting the debut of the "new '' Undisputed, it makes you wonder if Bayless' run is nearing its expiration date. The man has been in the sports journalism business for almost 50 years, going back to his days as a newspaper reporter. He's been the most hated personality in sports media for years, and he confirmed that notion for most in January with his comments regarding the Damar Hamlin situation.
If you asked 95 percent of sports fans, they'd probably say it's time to put ol Skippy out to pasture. Honestly, it's probably a higher percentage than that. Bayless has shown over the years that he has no problem making things personal with athletes but can't take the heat when they fire shots back at him. Skip doesn't want the smoke; he only wants to blow it up everyone's….