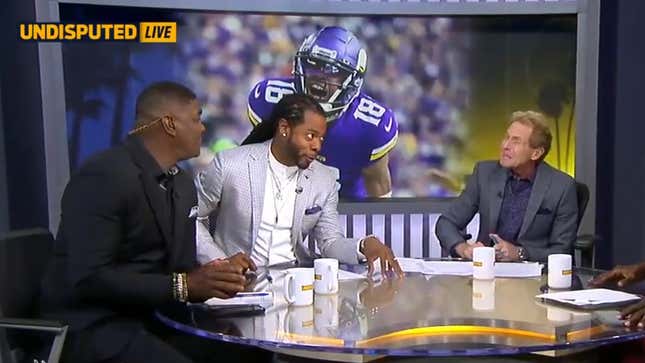 Week 1 of the new and "improved" Undisputed with Skip Bayless on FS1 proved to be anything but an improvement, according to most. The numbers don't lie either, as the season debut last Monday peaked at 131,000 viewers and has only gotten worse from there. By day three on Wednesday, Undisputed was charting 78,000 viewers. The demise of Undisputed seems to be in full effect if those numbers are any indication of what's to come.
"This is the greatest morning of my career! This is about to be the greatest show I've ever been a part of. Welcome to the new Undisputed!"
The "greatest morning" of Skip's career quickly became one of the most awkward as Bayless was soon overshadowed and outspoken by three of the loudest mouths in NFL history. Richard Sherman, Michael Irvin, and Keyshawn Johnson. Bayless started the show and introduced the three former gridiron stars, then took a backseat as chaos ensued.
A former colleague of Bayless at ESPN, Dan Le Batard, was watching and expressed his opinion on Skip's last-ditch effort to stay relevant in an ever-evolving industry. Nobody needed Le Batard to point this out; Skip is clearly hanging on for dear life after running Shannon Sharpe off Undisputed with his outdated shock-jock schtick.
"Skip Bayless is trying to keep up with changing times in his 70s by opening the gates of hell to three generations of, 'This is the loudest Black guy who played football during his generation,'" Le Batard explained. "Three generations of it. Michael Irvin, Keyshawn Johnson, and Richard Sherman. Of course, when they get together, because they all want to be thrown the damn ball, all of them are talking at the same time, and Skip Bayless shrinks to the size of a postage stamp on his own show."
Bayless' "dream team" plan has backfired within days of debuting on FS1. Honestly, the show was much calmer and more regulated when Rachel Nichols came on later in the week and engaged in segments with Skip and Keyshawn. It wasn't wild and chaotic but made for better viewing. That first day seemed more contrived than ever, with the usual on-air antics from these guys multiplied by 10. Nothing about this felt off the cuff.
Before Undisputed returned with its new cast after a long hiatus, rumors had been floating around that the so-called decision makers at the network were not happy with Skip's choice of new co-hosts. The folks at FOX Sports were not enamored with Bayless' choice to piggyback off what Stephen A. Smith is doing at the four-letter network on "First Take." The revolving door of debaters has proven successful for Smith since giving former co-host Max Kellerman the boot.
Despite SAS's continued success on ESPN, the same doesn't seem to be in the cards for Bayless.
What it comes down to is people are tired of Skip. It's one thing to be bold and outspoken in your opinions, but when it crosses over to condescension and arrogance, nobody is going to stick around long for that. Shannon finally had enough of Bayless after close to a seven-year partnership on the show. You could see their split coming a mile away, and those last six months or so were hard to watch at times. It was clear Sharpe was tired and just waiting to make his exit.
Now Skip is left to pick up the pieces and rebuild the show to where it once was with Shannon. We now know how many co-hosts it takes to replace Shannon Sharpe. And even with all these personalities on the set, they still can't hold a candle to or lace the Sharpe's cleats. The end is nearing for Bayless. At 71 years of age, his time has come and gone. It was a great ride for a while, and he's had much success. All that's left to do now is see how long FOX allows this travesty to live on.