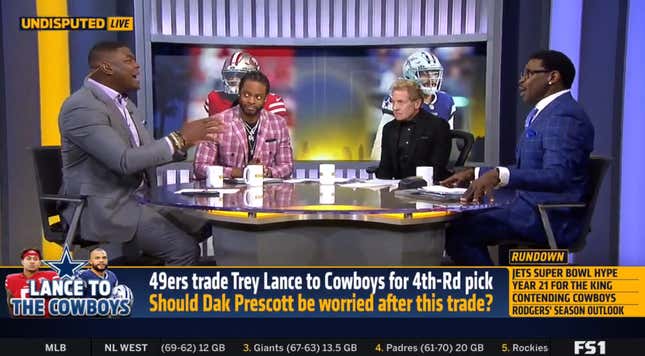 The new Undisputed debuted Monday morning with Skip Bayless leading the charge as usual, but things quickly flipped once his panel joined the set. With Richard Sherman, Keyshawn Johnson, and Michael Irvin at his side, Bayless embarked on the next era of his debate empire. In Skip's eyes, he's enlisted an All-Star lineup of gum-flappers not matched on any other platform. However, Bayless' glee soon turned to gloom as the three former NFL players began dominating the show. This brings to mind the 1985 NBA All-Star game when Skip's GOAT, Michael Jordan, was allegedly "frozen out" and ignored on the court by his teammates.
There were segments where Skip could barely get a word in because the three men passed the baton around, skipping over the man who brought them into the FS1 family. Don't think anyone is about to feel sorry for Bayless for even a second. This is what he wanted. After feeling the pressure of Shannon Sharpe's growing spotlight and success, Skip pushed him to the point where they couldn't continue the show together.
One-on-one is a lot different than one-on-three every week. Luckily for Bayless, this won't be the format every weekday morning, but it looks like Mondays and Tuesdays during the fall could be long days for Mr. Bayless. Let's keep in mind that this was only episode No. 1 under the show's new format. It'll take some time for these guys to get on the same page and hit their stride as a collective.
Bayless looked more and more defeated as Monday's show progressed. He could've been sitting back and allowing his new co-hosts to get acquainted with the audience, but Bayless also looked bored and bewildered at times. Typically, this wouldn't be funny, but since it happened to Skip Bayless, most of the sports world is basking in his embarrassment.