Leif and Leyland Topps are just twin brothers trying to get ahead in the rickety, unpredictable world of the sports card business, with a boss who doesn't like them, a Steinbrenneresque CEO and enough half-baked ideas to get them into consistent trouble. Sound familiar? Anyway, it's the basis for the new Web-only series Back on Topps, created and performed by twin brothers Randy and Jason Sklar (Cheap Seats, The Bracket, Layers).
The series of 25, five-minute web-isodes for the Topps company debuts next month, and the Sklars agreed to give us a peak at one of the first ones (shown following the jump). Randy Sklar talked with me by phone about the project, a portion of that interview also below. But about the video: You should know that the term "Sweet Mullet of Gaetti" will be invoked, and there will also be hairdressing tips. Come join me; I've got the beer.
Here ya go. This is an excerpt — about half of a full episode — and the picture quality will be better over at the Topps site. But Randy Johnson's facial features come through nice and clearly.
It may have seemed an odd move when former Disney CEO Michael Eisner and his Tornate Co. bought out Topps last year. Much like the comic book industry, baseball cards hit a peak in popularity in the mid 1990s, before the bubble burst in 2000 or so; companies such as Fleer and SkyBox closing shop for good. But Eisner, as one might expect, has a strategy.
Enter the Sklars, whose Back on Topps follows the fictional Topps brothers, heirs to the Topps card fortune who are muscled to the sidelines at the last minute and are struggling to, well, get back on top. It's one of several web series that Eisner has in production, this particular one an attempt to revitalize the card industry by reaching beyond sports.
G/O Media may get a commission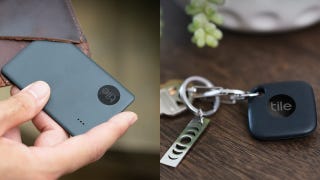 Up to 35% off
Tile Item Trackers
"This is meant to be something much more than simply a commercial for Topps, and hopefully we've accomplished that," said Randy Sklar, a St. Louis native and University of Michigan graduate, as is his brother. "When we pitched it, we said that we wanted to do a Web series that took shows like Cheap Seats and The Brackets and encompassed all of that.
"The Topps brothers are just basically fuckups who love cards, love sports and are passionate about it," he said. "They love the little things in sports, and are scrambling to get back on top."
A big component of the show will be athlete cameos; with appearances by everyone from Kevin Love, Russell Martin, Matt Holliday and Baron Davis to Dennis Rodman.
"The Topps guys are just amazing," Randy said. "We're supposed to have Greg Oden tomorrow. Agents are really aware of us now and really want to get their clients on. Topps has so many people under contract, that they just call us and ask 'Who do you need?' Everyone's been great."
It's one thing to get athletes to show up, but it's quite another to know what to do with them. As always, the Sklars seem to have a handle on it.
"One seven-episode arc in the middle of the series involves our quest to get Julio Franco back in the game," Randy said. "Franco invented this energy drink, and he drank half of it and grouted his bathroom tiles with the other half."
Eisner is in the series as himself — although played by an actor — and there will be guest appearances by Ed Helms and Phil Morris (Jackie Childs from Seinfeld), among others.
"We wanted to create a pure comedy, something that starts with a web site and could eventually go to television," he said. "But the immediate goal is to introduce cards to a new generation. That's Michael's vision."
Oh, Sklars [Deadspin]