Some facts about Stephen Curry:
• Through four games, Steph's line is 37.0 points, 6.3 assists, 5.0 rebounds, 2.5 steals and 2 turnovers in 31.8 minutes.
• In raw terms, that looks like this:
• "Scoring runs" are one of my pet NBA stats: this is when a player goes and swings a game all by his own self. Scoring your team's last-however-many says something about your roster; doing it game-wide requires a good defense, but also the capacity for scoring in clusters. NBAminer.com tracks these, and through four games, Steph has five of these runs—no one else had more than one going into last night (I poked at the play-by-play to find how many Steph had against Memphis).
Last year, the top of the league looked like this:
G/O Media may get a commission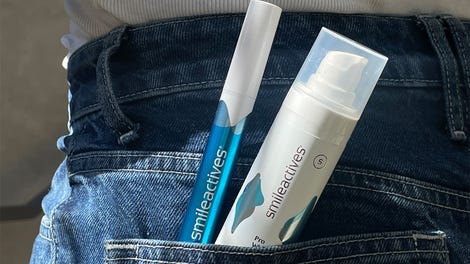 58% off
Whitening Powerhouse Pen & Gel Duo
• Jumping up an octave, there's this:
• Curry's Win Shares per 48 minutes is .648, by Basketball-Reference's count, which is absurd. That's higher than the entire starting lineups of the Knicks, Lakers, and Sixers—combined. No other player in the NBA has more than .390.
• 51.2 percent of Curry's shots have been threes—that's 43 of 81 total shots—and yet his average shot distance, according to NBAminer.com, is just 17.00 feet, much closer than dedicated gunners. That's because more than a quarter of Curry's shots (27.4 percent) are coming at the rim.
A few years ago, his shot chart looked like this:

These days, it looks like this:

This is an upward trend. Last year, Curry took 26.2 percent of his shots at the rim and shot 63.2 percent. Now he's taking more, and they're more accurate.

• Curry driving has been so potent that Synergy Sports has his "derived offense" number for isolations (being his own offense and that he creates with assists) at 1.42 points per possession—highest in the NBA.

• Going into last night, he also led PPP in personal iso offense on Synergy, but was overtaken by Jahlil Okafor (he still leads transition and pick-and-roll ballhandling).

Steph has always been a good ball-handler, but iso has never been his strongest suit. But this year, the handle looks a little tighter, the step-backs a little more crisp, and there's a sense that this thing might be happening. Elevating to rarified air in the one spot he seemed human would be unfair.

• Especially since he's still the best at what he does:

• The top of the all-time, unfiltered PER leaderboard is littered with hit-and-runs. DeAndre Liggins just two years ago put up the greatest* NBA season by playing less than one minute, hitting a shot, and snatching a rebound. Among all players recorded at the time of this writing, no player with over 50 PER has played more than 7 minutes while recording it, except Steph (50.4), who's played 127.

(Blake Griffin and Russell Westbrook have put up 35.3 and 34.3 PER so far this season, and somehow feel a galaxy removed from what Steph's been doing.)
NBA basketball's opening weeks are the absolute best in sports. Doing the projected baseball card math is fun with every sport's outliers, but in basketball, individual excellence is so telling, and tells so brutally, that the outlandish results take on meaning even as the sample size becomes meaningful. You don't get that so much with a thin slice of spring baseball, or a running back busting out for 190 yards two weeks before his knee ligaments are catapulted into the sun—or at least, not with as much stunting as Steph puts on these days.
Curry's stat line has always been a point of fascination, mostly for the ways it contorts itself to reflect the actual experience of watching Steph. This year isn't any different. Will Steph Curry Come Back Down To Earth??? Uh, yes. But there's a good chance he'll settle in higher cruising altitude than you'd think.
Image via Getty.