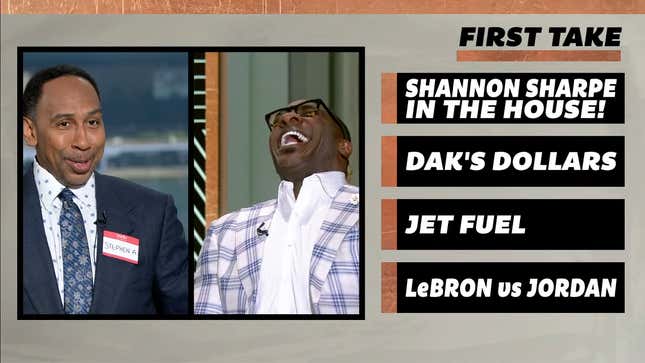 Stephen A. Smith and Skip Bayless will forever be linked to each other because of their success on ESPN's First Take. Even after seven years apart, the sports world still flashes back to when they made sports media debate shows the hottest ticket in the industry. Smith and Bayless are connected at the hip in terms of making that genre of talk show what it's become that some people can't tell one from the other. First Take's newest co-host, Shannon Sharpe, debuted across from SAS on Monday and confused Smith with Bayless during the show. On Tuesday morning, Smith decided to offer Sharpe some assistance in the form of trolling by wearing a name tag.
Obviously, Sharpe had a slip of the tongue after leaving Undisputed at the beginning of the summer following the conclusion of the NBA Finals. After nearly seven years of battling Bayless on FS1 every weekday morning, it was bound to happen sooner or later. Shannon got his miscues out of the way right out of the gate. So, of course, Smith had to get him on day two by bringing in a visual aid to assist his new cohort.
It was a funny moment that gave everyone a good chuckle, including those on the show. The ratings for Week 1 of the "new and improved" Undisputed weren't exactly anything to write home about. While the show did get a little calmer and more under control as the week went on, the ratings plummeted.
It'll be interesting to see how well Sharpe's debut week does in viewership numbers compared to what the show has done recently. We should also track how often Shannon calls Stephen A. "Skip" in the coming weeks and months. It's like that saying about people spending so much time together over the years that they eventually resemble one another.