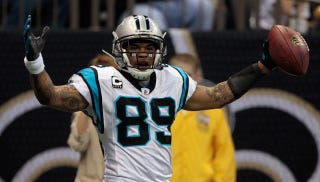 Steve Smith had some fighting words for Rams cornerback Janoris Jenkins after the two faced off this Sunday, and it looks like he's not done being angry yet.
Smith says the beef started because Jenkins Googled information about Smith and his wife, and used whatever he found as the basis of his on-field trash talk. Yesterday, Smith went on WFNZ in Charlotte to talk some more about his feud with Jenkins, and it appears that he did some Googling of his own. He highlighted his interview with this dig at Jenkins:
"It sounds like he needs to wear some condoms. That's what it sounds like he needs to wear."
In case you were wondering, the 24-year-old Jenkins has four kids.
[CBS]