Good news for the crowd that wants to stick to sports.

Gizmodo Media Group illustrator Sam Woolley joined me for an episode all about the messes that plague the sporting person. The topic provided an excuse to mine the Ask a Clean Person files to find out which activity generates the most queries. I wasn't at all surprised—although you might be—to learn that hockey has inspired almost three times as many questions as the next sport (roller derby!) on the list.
Here's what I covered in my 90th episode:
The best way to wash grimy, greasy bowling towels;
Products and tools to clean golf clubs, as well as ones to avoid;
Tips for laundering microfiber towels and cleaning cloths;
What to do about football gloves (tacky and non-tacky) that have developed an odor;
How to remove scorch marks from a slow cooker base that was used to make delicious gameday queso. (Do you want to tell me about how you make better queso than anyone else? Sure you do!)
G/O Media may get a commission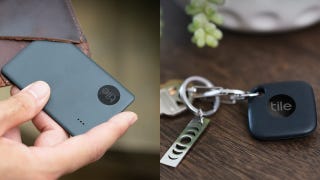 Up to 35% off
Tile Item Trackers
Sam and I, by dint of having worked together for years, also meandered down memory lane for a bit. I hope you enjoy it as much as we did.
Over in the bonus episode, it was finally time for me to tell the story about the grudge I've been nursing since 1981. It started with a boy at school giving me a black eye in 1979; it's true that I've always been great with men. Sam and I also caught up on our recent trip to Dallas for a family wedding.
You can subscribe to Ask a Clean Person: The Podcast in Acast, iTunes, PlayerFM, Stitcher and all the other places you'd expect to find podcasts. For bonus episodes and all sorts of other cool rewards, head over to Patreon to help underwrite the show. Got Qs for the pod? Email Jolie with the subject line CLEANCAST.