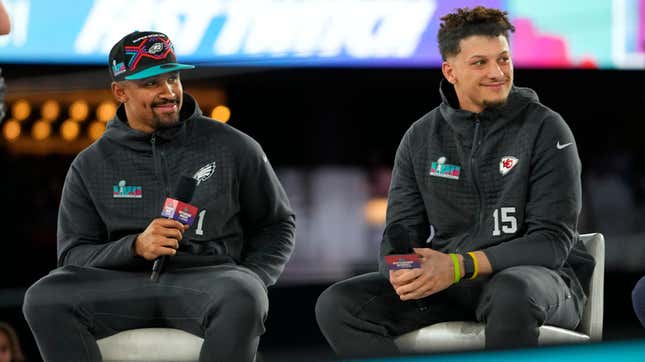 Opinions are like assholes. Everyone's got one and most of them stink. Some stenches are way worse than others though and in the sports world, there's no better place to see a poopy butt on display than Twitter. In today's edition of showing your idiocy, enter Eliot Shorr-Parks, self-described Eagles reporter for 94WIP.com. Despite working in sports media, he proved critical thinking isn't his strong point with the tweet below, where he said if you built a quarterback from scratch, you'd want someone more like Jalen Hurts than Patrick Mahomes. To further prove his foul opinion, the second line of his message presents the biased finding as an undeniable fact. 

Hot takes, get your hot takes!
Hot takes are on the rage. It's an easy way to get your 15 minutes of fame. Like most people chasing clout over journalistic excellence, like Jason Whitlock or Skip Bayless, your ass shows rather quickly. To prove his impartiality as a beat reporter, he's wearing a Philadelphia Union jersey in the pinned video on his Twitter page. I didn't have to look that hard to find the guy's a twat, much less all the Eagles fans saying he doesn't represent their fan base in the replies. Falling through the ceiling of a bus stop is more their thing.
If showing your lack of brain power to get someone to bite and write about you, congrats. Beyond the immediate attention-whoring of Shorr-Parks' tweet, recognizing Jalen Hurts' phenomenal season is needed. He's likely the MVP runner-up to the starting quarterback on the other sideline for Sunday's Super Bowl. And if Hurts doesn't get injured near the end of the regular season, he might beat Mahomes for the award. Calling Hurts an elite quarterback right now also isn't accurate at the moment.

Which quarterbacks are elite?
There are only three quarterbacks that I'd call elite in today's NFL: Mahomes, Josh Allen, and Joe Burrow. That list is meant to be exclusive, not inclusive. There are a few quarterbacks in the ballpark of being on that list but definitely don't deserve entry at this time: Justin Herbert, Lamar Jackson, Aaron Rodgers, and Hurts. To be truly elite, you need current consecutive seasons of sustained top-level play. Hurts did that in 2022, but let's not forget the chirps from Eagles fans questioning whether he was their guy moving forward entering year No. 3. This is his first campaign looking like an elite quarterback and can't be considered among the best until it's repeated. He has all the tools to win Super Bowl LVII and join that trio next season. He's unequivocally not there right now.
How is Jalen Hurts better than Patrick Mahomes?
What exactly makes him a superior quarterback to Mahomes? I truly can't think of anything. Hurts being great and Mahomes existing as a signal caller we've never seen the likes of in the NFL before are both true. Largely due to the play of Mahomes, the AFC Championship game has been held in Kansas City each of the last five seasons. Hurts has accomplished that feat four fewer times.
There are no doubt qualities about Hurts that are incredibly desirable for any quarterback. He's got a strong arm, he's mobile, creative, and tough. Hurts also hasn't started every game of an NFL season yet. It's too early to call him the ideal quarterback when you have other guys in the league like Mahomes and Allen who've proved it beyond a doubt. When building the best NFL quarterback, why not go with the best one? In that case, you're building Mahomes.