From now until the end of the season, we'll be posting a number of clips from the previous weekend's English Premier League games. If there's a goal, save, dive, lip-read profanity, or hocked sputum we should know about, drop us a line at tips@deadspin.com. (You might also enjoy our better-late-than-never EPL guide.)

Swansea loses pretty (Tottenham Hotspur 3, Swansea City 1)
I've watched a lot of soccer this season, some of it bad (recent Liverpool), some just mystifying (often featuring Man City and/or Mario Balotelli), but Sunday's Spurs-Swans was, if not the best, at least my favorite game of the year so far.
I've grown to love Swansea City and their short passing style. They were at it again in White Hart Lane, opening up the game while keeping the ball on the grass. Tottenham has been struggling lately,winning only two of their last eight and generally playing down to their opponents, but they seemed inspired by Swansea's style, and matched it. Beauty begets beauty. The return of Aaron Lennon opened up the field, and Rafael van der Vaart was everywhere on it. It took Spurs less than 20 seconds for the ball to go from Brad Friedel's gloves to the back of Swansea's goal. The Swans passing style, while lovely to watch, can leave space open for more talented teams (like Spurs) to exploit. And they did.
Friedel kept Spurs in the lead in the 48th minute, making an absolutely ridiculous save on Swansea's Gylfi Siggurdson Sigurdsson, who did find the net later on and who was the best player on the pitch for either team. Sigurdsson is on loan from Hoffenheim in the Bundesliga. If the Swans can hold onto Sigurdsson and Scott Sinclair, forming a nucleus around midfield maestro Leon Britton, they'll be an attractive part of the Premiership for seasons to come.
G/O Media may get a commission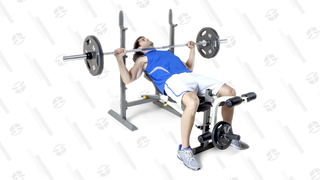 10% Off
Marcy Folding Weight Bench
Mario Balotelli does stupid thing, brilliant thing (Manchester City 3, Sunderland 3)
Who is Mario Balotelli? Is he a petulant locker-room poison? Is he a misunderstood savant who isn't so much a real person as he is a human trending topic, a cat GIF on legs, a species of celebrity that we might as well identify as LOLman? Is he all of the above? We don't know what goes on in his head (does he know?), but Mario keeps doing things that make everyone shake his. Last week, on what was supposed to be a day off, he flew to Italy, drove a Ferrari to former club Inter, crashed the introductory press conference of their new coach, said hi, and left. The day before their match against Sunderland, manager Roberto Mancini decided to tell the press that he couldn't "trust" Mario.
City has gone from being the most dominant team in the EPL to the most dysfunctional, and Saturday at the Etihad they were at their worst. They are in the middle of a title race against United, and they were playing at home, where they hadn't lost all year and where on Saturday they looked for all the world as if they didn't want to be there. They fell behind early, and Sunderland were the better team. Mario and the rest of his Man City teammates played zombie soccer. Until Alexsandar Kolarov went to take his third free kick of the game, from just outside the box, City down 3-1. Our man Mario had other ideas, and threw a bit of a tantrum. This was Mario at his worst, being pushed out of the way by his captain, Vincent Kompany. City had capitulated, manager Mancini was sitting down on the sidelines, and then Mario cut in at the top of the box and scored one of his finest goals of the year. Mario at his best. Mancini didn't even move until Kolarov equalized in frantic fashion barely a minute later. Mario had saved two points, and any chance City have at the title.
So how did he celebrate? By getting into a post-match fight with teammate Yaya Toure. His manager thanked him by telling the press he wished he could have taken him off after five minutes, and that he's "for sale." Looks like Mario will be doing whatever it is he does somewhere else next year. Which is a shame. We'll miss him, along with schoolchildren and mall patrons of Manchester.
David De Gea saves United's day (Manchester United 2, Blackburn Rovers 0)
We haven't been showing enough great saves in Premiershit recently, so this week's edition features three, these two by Manchester United's David de Gea.
De Gea has made a remarkable comeback from an equally remarkable slump. Earlier this season, he was lost. He was horrible on crosses, couldn't corral a rebound, and defenders Nemanja Vidic and Phil Jones yelled at him on the field when United fell out of the Champions League against FC Basel. Sir Alex benched him after a 3-2 loss to Blackburn at Old Trafford on New Year's Eve.
But his replacement, Anders Lindegaard, got hurt, and De Gea wound up back in the lineup. Since then, he's been one of the best keepers in the EPL, saving a match against Chelsea with one of the saves of the year against Juan Mata, just when City was threatening to run away with the title. Against Blackburn, he made two more amazing saves on the cusp of halftime, keeping the game a goalless draw. Antonio Valencia's 81st-minute screwball blast was the game winner in the box score, but De Gea won the game in goal.
The Deuce gets No. 13 (Fulham 2, Norwich City 1)
Clint Dempsey scored a goal at Craven Cottage on Saturday. It wasn't his prettiest goal of the year, or the most meaningful. He didn't so much shoot the ball as get in its way, after Norwich City keeper John Ruddy couldn't corral a shot by Brian Ruiz. He didn't score with his head, or his foot, but with his thigh. But a goal's a goal, and Deuce keeps scoring. This one brings him to 13, breaking his own American record for goals in an EPL season, giving him 19 in all competitions, and further cementing what we've been saying all year: Clint Dempsey is having the best season any American has ever had in Europe.