After a disappointing season with Washington last year, current Jets wide receiver Terrelle Pryor is back practicing with his old teammates during a joint practice in Richmond, Va. They don't seem particularly happy to see each other.
Pryor's flinch is embarrassing on its face, but when you consider 1) Pryor is wearing a helmet and DJ Swearinger isn't, 2) Pryor is the one advancing, and 3) Pryor stands about half a foot taller than Swearinger, it might be grounds for forced retirement.
This punking is part of a larger pattern, which is that everybody seems to hate Terrelle Pryor. Last year, opposing NFL players dragging Pryor—who played in nine games, accumulating only 240 yards and one touchdown—became a sort of sport on its own. Pacman Jones tweeted "Pryor suck"; Janoris Jenkins went with "U really suck." Washington lineman Zach Brown could barely contain his glee at getting an opportunity to rough Pryor up in the joint practice. From the Washington Post:
"That's going to be something right there. The boys are gonna have it out for him. We can put hands on him now.

"The boys were already hot for what he was doing last year. Try to one-hand something while you're with the Jets, you're gonna catch a forearm," Brown continued. "Jay [Gruden] ain't here to protect you anymore."
G/O Media may get a commission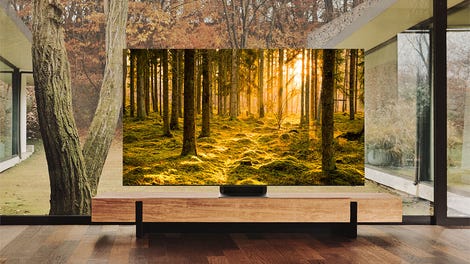 Up to 40% off
Samsung Smart TVs
Pryor responded, saying, per NJ.com:
"We're there to practice and get better," Pryor said Thursday, after the Jets' sixth training camp practice. "If I wanted to put my shoulder down and hit one of them — and get chippy, too — I'm sure I could do that. But that's not why we're there.

"If they take dirty shots, I'm sure we'll handle that accordingly. You start trying to make it an individual thing, it takes away from our team. I don't want to individualize myself."
At Tuesday's practice, Pryor was reportedly sticking to the high road, despite the taunting.
At least he's not yet admitting he's garbage.