We haven't received any definitive confirmation, but there are rumors swirling this morning that, after last night's taping of "Quite Frankly With Stephen A. Smith," ESPN executive vice president Norby Williamson — Norby! — informed the show's staff that the program has been canceled and will air its final episode tonight. The rumors are that Norby told all the swingers himself.
The show has been plagued by awful ratings since its ridiculously high-profile launch more than a year ago — the reasons for the low ratings vary, ranging from the general unlikability of its host to the fact that no one can stand the guy whose name is in the show — and Stephen A., a few months ago, seemed to acknowledge the show was close to shuffling off this mortal coil.
"I don't know [whether the show will make it to a second anniversary]. I don't know if I'm going to want to [continue]. ... For me it never has been about just being on TV. I'm about success."
We have no confirmation on this, and it could be bunk, but that's what we're hearing, anyway. A sad day. Totally. Seriously. Really.
The Post Where Stephen A. Calls Us A Liar, And We Return The Favor [Deadspin]
Our Field Trip To Quite Frankly [Deadspin]
G/O Media may get a commission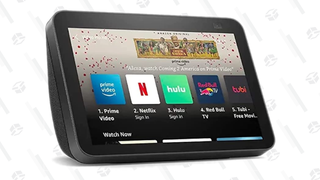 (UPDATE: Synergy Sports has an email from a staffer saying the show is kaput. Here's what the staffer wrote:
"Hi, i work on the show and it just got shit canned today. No on knew until 5pm, we shot the last show before we knew it was the last show then they rounded everyone up and told them at the same time. I knew it was over shortly before it was announced when someone told me they were instructed to "change the locks" on certain equipment closets.")
(SECOND UPDATE: We now have official confirmation: The show's over, gang.)
(THIRD UPDATE: ESPN has sent out a press release about Smith's show ending, and it's after the jump. The show's not being canceled: Smith is "expanding his presence." Of course!)
> From: "ESPNPR"
> Date: January 12, 2007 2:11:42 PM EST
> Subject: NEW ROLE FOR ESPN'S STEPHEN A. SMITH
>
> For Immediate Release
> January 12, 2007
>
>
> NEW ROLE FOR ESPN'S STEPHEN A. SMITH
>
> Expanded Appearances on SportsCenter, NBA, ESPNEWS Plus Four Interview Specials; ESPN The Magazine & ESPN.com Opportunities; Last Quite Frankly Show Today
>
> Stephen A. Smith, ESPN's outspoken and insightful commentator, will expand his presence across numerous ESPN entities as part of a new role, it was announced by Norby Williamson, ESPN Executive Vice President, Remote and Studio Production. Smith will be featured more regularly and extensively on SportsCenter, NBA studio programming and on ESPNEWS, as well as host four TV interview specials surrounding big events. In addition, opportunities for ESPN The Magazine and ESPN.com columns will be explored. In turn, today will be the last episode of Quite Frankly, the weeknight interview program that Smith has hosted since its August 2005 debut.
> "Stephen A. connects with fans because he brings great energy, knowledge and strong opinions," Williamson said. "While Quite Frankly delivered strong interviews and discussion, this new role will provide a better showcase for Stephen A.'s impactful voice to be heard across numerous forms of ESPN media."
> In addition to the four interview specials, Smith will appear as a leading NBA voice for news, issues and analysis across all of ESPN's studio programming, including SportsCenter, NBA studio shows and ESPNEWS.
> Stephen A. Smith joined ESPN in 2003 as studio analyst on NBA Shootaround and NBA Fastbreak and as a reporter for other studio programming. Quite Frankly debuted in August 2005 as a 6:30 p.m. ET weeknight series, and was moved to the late-night time period (11 p.m. or following live events) in January 2006. Smith has been a sports writer at the Philadelphia Inquirer since 1994.
> Prior to ESPN, he covered news and sports at the New York Daily News (1993-94) and worked at the Greensboro News and Record (1992-93) and the Winston-Salem Journal (1991-92). Since 1999, he has also been active in television and radio, primarily in Philadelphia, but also on Fox Sports Net, Fox News Channel, Fox Sports Radio and CNN/SI, in addition to appearances on ESPN Radio.